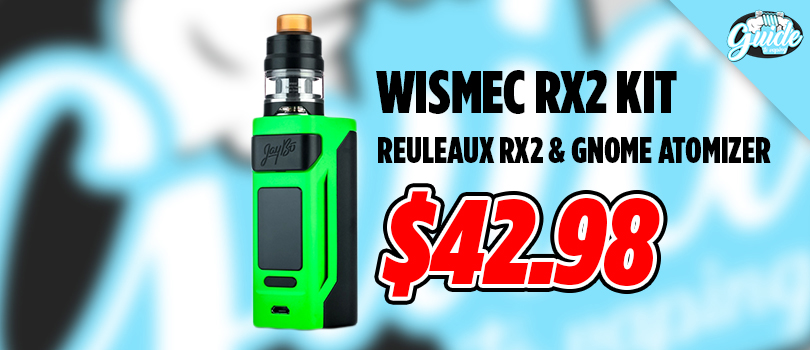 From the vaping giant that brought you the highly popular and very successful RX series now offers the Wismec RX2 Kit, a single big battery mod that's rich in design and power. In a collaborative effort between Wismec and Jaybo, we've experienced some incredible and very affordable mods under the RX series, such as the RX200, RX200S, RX75, RX2/3, RX300, RX GEN3, and now the RX2. This deal will allow you to join the rest of us RX users and experience the beautiful side to vaping using a Jaybo designed device that's impressive and affordable. Get the Wismec Reuleaux RX2 Kit in this fabulous deal for just $42.98! Be it for yourself, a friend or family member, you don't want to pass this deal up.
A little side note, I still have my RX200, RX2/3, RX75, RX200S, and they all still work fine. This device too will last you a good while as long as you treat it kindly, such as proper maintenance and careful handling (meaning don't drop it).
---
[mks_button size="large" title="GET THE REULEAUX RX2 KIT HERE FOR $42.98″ style="rounded" url="http://shrsl.com/mn1c" target="_blank" bg_color="#dd3333″ txt_color="#FFFFFF" icon="" icon_type="" nofollow="1″]
---
Combining the Wismec Releaux RX2 Mod with the Gnome Atomizer Tank, creating one hell of a powerful setup. The Releaux RX2 Mod delivers an interesting shape, similar to the RX2/3 mod in its two battery configuration. This RX2 mod features a back battery panel that's capable of holding either two 20700 batteries or two 18650 batteries with the help of a sleeve. It sports a nice, unique and very appealing design, offering up a large fire button, a 1.3″ OLED display with an easy interface, a rocker style adjustment button, and a micro-USB port. The top features a spring-loaded 510 connection, and as for power, the Wismec Reuleaux RX2 Kit is capable of reaching up to 200 watts! There are several modes to play with, including variable wattage, temperature control, and a TCR mode for fine tuning your vape during TC use. While in wattage mode you can fire down to 0.1Ω and 0.05Ω using the TC function. The Gnome Atomizer Tank comes included in the kit, and it offers a performance that's just as good. Enjoy a retractable top fill design, an ultem wire bore drip tip, bottom adjustable airflow control, and an optional 2ML or 4ML e-liquid capacity.