Introducing the all new Wotofo Nudge BF Squonk Mod, a compact, 18650 powered device that reinvents the unregulated squonk category. It does this by introducing a built-in safety chip to deliver the peace of mind found in regulated mods, while offering the unlimited capability found in a mechanical mod. The Nudge BF Squonk Mod by Wotofo truly delivers the best of both worlds. Allow us to tell you more about it in this Wotofo Nudge BF Squonk Mod Preview.
Meet The Nudge BF Squonk Mod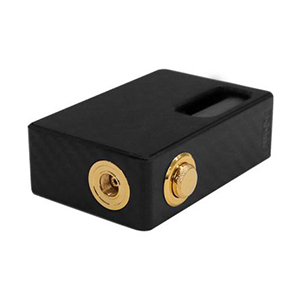 Constructed of carbon fiber for a strong, reliable, yet lightweight feel, the Nudge BF Squonk Mod paints a pretty picture when it comes to quality and a durability. It shares a rather small footprint of just 75mm in height, 50mm in depth, and only 24mm in width. Though it features a compact design, it's still capable of supporting 24mm atomizers and under for an incredible look that you're sure to be pleased with. If judging this mod by first impressions, you'll be easily impressed since it's very appealing.
The Wotofo Nudge BF Squonk Mod starts by offering a 510 spring-loaded connection at the top of the device, which I must say is 24K gold-plated. The side fire button, which is also 24K gold-plated, features a locking mechanism to prevent accidental discharge, a common issue found with many mechanical mods. While the body is made of carbon fiber, all its metal parts are 24K gold-plated to ensure the best possible conductivity. The backside of the Nudge BF Squonk Mod has a removable magnetic battery panel to conceal both the battery compartment and the silica gel squonk bottle, which features a large 7ML e-liquid capacity. The panel also has a cutout to allow the user to easily press the soft bottle and have a visual of the current e-liquid level. Between the two is a small safety chip that's installed to help prevent a short-circuit and ideally protects the user and mod from any potential harm. A mechanical mod and built-in safety, who would have thunk it? Despite its small size, the Wotofo Nudge BF Squonk not only holds a bottle with a 7ML e-liquid capacity but it also houses a single 18650 battery, which is purchased separately from the device.
The Nudge BF Squonk Mod by Wotofo is an incredible option for those that enjoy squonking, as it delivers a very small size, squonking, in general, is very convenient, and it offers a built-in safety chip to protect the mod and user. What's you'll find most impressive about this device though is its high-end appearance from quality materials used, yet still features a price that's affordable.
NOTE: The Nudge BF Squonk Mod is currently priced at $37 for pre-order here. The estimated time of arrival is roughly around the 25th.