Earlier this year we published a review for Zample Box. Once again Zample sent me a "Gold Member" Zample Box. With the first review I looked at the experience as someone who wasn't into sampling flavors. To understand how this experience is supposed to go is to realize that Zample Box is purely for sampling new flavors. This means, if you're stuck on a single flavor or want to see what else is out there, then Zample Box is where it's at.
For those of you who didn't see the review of Zample Box, you can go here or to sum it up quickly, ZampleBox is an e-liquid subscription service. The way this works is that you pay a monthly cost and in return receive a box full of different branded and flavored e-liquid. There are two memberships available; Gold Member and Standard Member. The Gold will cost $44.99 per month, while the Standard costs $24.99 per month. With Gold you'll receive 11 bottles (120-180ml), while with the Standard you'll receive 6 bottles (60-100ml).
First Impressions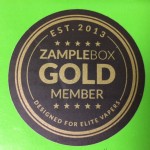 Receiving my green Zample Box with warnings, Zample logos and "ZampleBox Gold Member" labeled by a sticker, there wasn't anything different with the presentation that I haven't already seen. Opening up the box there are a few promotional cards and stickers. Beneath that is green paper that protects the 2 beautifully wrapped packages of e-liquid. The presentation of that given with the box itself looks professional and absolutely inviting. The inside presentation looks great as well with the promotional items and often given discounts on products. The wrapping around the bottles look nice, and as bad as I don't want to use the word pretty… it very much is.
What You Can Expect
In one package there are 6 bottles of e-liquid, while the other there are 5 bottles. In the first package I received Gu-Kake by Banzai Vapors, G2 Vazilla by G2 Vapor, Meteor by Helios, Pink Mist by Lick, Sensei's Stash by Banzai Vapors and Red Headed Girl by Mad Mike's. In the second package I received Biscotti by NicQuid, Midnight Express by NicQuid, Halley's Comet by Liquid Nebula, Lolli-Pop Grape by Puff-U and Love Potion No.9 by RocketFuel.
To be honest, I would say only 4 of these brands are a 'premium' brand, while the others look to be more of a house type brands. However, this was my thoughts last time and since I looked at them as an unknown brand, I thought less of the e-liquid before even trying them. This time around I'm looking at this as I'm a person who ordered this ZampleBox to expand my experience of different brands and flavors throughout the world, and by thinking this way, I'm actually getting to try quite a few brands and flavors that I never would have otherwise, for a pretty low price.
Just as a quick note, NicQuid has the best packaging of a bottle that I've ever seen. NicQuid, HUGE thumbs up for the clear box that surrounds each bottle of your e-liquid.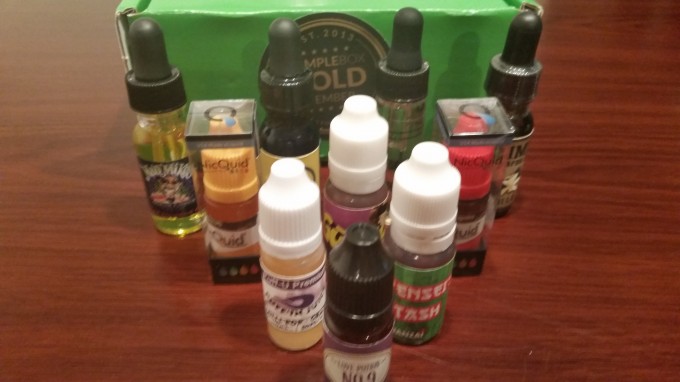 Pricing
Even though you may not like some of the flavors you receive, getting the actual experience of trying them, you're not only saving yourself money in the long-run, but you're getting quite a bit of e-liquid for a rather small price with both membership options.