KangerTech has become highly known in the electronic cigarette market for its innovative accessories, such as the Evod BDC, Protank Series and AeroTank Series, and has even made a lasting impression with its Evod Battery. Now, Kanger is looking to expand its line-up of the more discreet and pocket friendly devices on the market, and they've planned to do that with the new KangerTech EMUS.
Appearance
The EMUS arrives presented in a white box, the Kanger logo resting at the top, the large EMUS model name sits in the middle and the name KangerTech sits towards the bottom. On each side of the presentation box is black and on the backside lists what is included in the EMUS Starter Kit. The starter kit includes 2 EMUS rechargeable batteries, 2 EMUS clear atomizers, 5 changeable coils, 1 USB wall charger, 1 wall charger and 1 instruction manual. In addition, there are a few warnings printed on the box, which you would of course expect.
Pull out the package that actually holds the product sits 2 clearomizers and 2 batteries. Below the top contents there sits the chargers and 5 coils. Something noteworthy about the contents of this package is that in each clearomizer there is a pre-installed coil, which brings the amount of coils to 7. There are 7 coils, which should last you quite a while, and this happens to be the most amount of coils I've seen offered with a starter kit.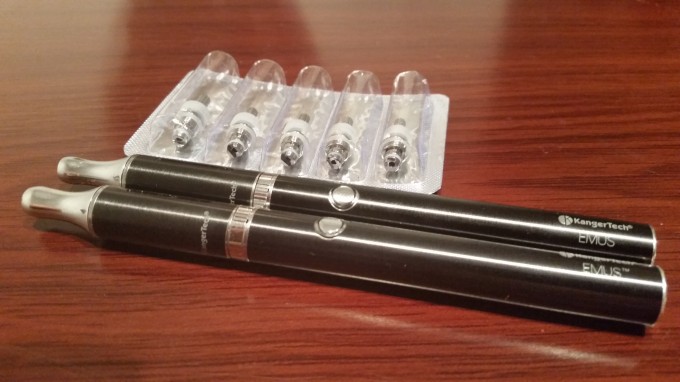 The EMUS essentially looks like an EVOD battery and clearomizer, except in a much smaller size. The Evod product itself has become a very popular product, and probably sits in the majority of e-cigarette shops around the world. The reason for this is that it's a small form factor, it's cheap and it works. The EMUS is basically the same thing.
Features
Not only do you have a small form factor, you also have other features like 5-clicks to turn the device on and off, the fire button lights up and at the bottom of the device the Kanger logo lights up as well. However, the best feature of this device is the clearomizer. The clearomizer is basically a single coil Evod, which isn't a bad idea to replace your traditional e-cigarette.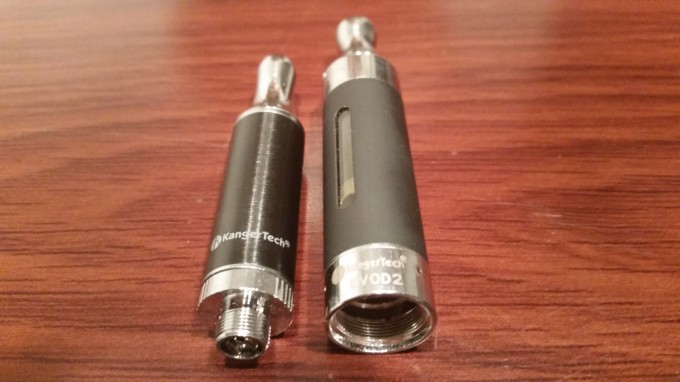 Performance
If you're looking for battery life, the 550mAh rating of each battery won't last you throughout the whole day, but if you're willing to tote the second battery, around a day or less is what you can expect before needing a recharge on both of the batteries. The 1.8ohm single coil is absolutely fantastic!  I'm not sure how it produces vapor so well on just a single coil and low voltage, but it does.