In this complete guide to the Reuleaux RX300 Mod we're going to give enough information about this device so that you know all about its features, its specifications, some quick tips, and we'll share how to operate the RX300.  Our goal is to inform you enough to where you know all about this mod and how to use it from the very moment you receive it in your mailbox.  This guide acts as a Reuleaux RX300 user manual and instruction manual.  All that we ask is that you share this complete guide to the RX300 with your friends so that they have the opportunity to learn about this incredible device as well.
If you haven't already bought the Wismec Reuleaux RX300 Mod and plan on picking one up for yourself, we would really appreciate it if you clicked the button below when ordering the RX300.  Within this button we use our affiliate link and earn a very small commission when you make a purchase.  The small commission will allow us to continue writing articles just like this.  We thank you for your continued support!
About The Wismec Reuleaux RX300
The all new Reuleaux RX300 by Wismec is an incredible new addition to the RX Series of mods.  Wismec didn't quite expect the popularity and overall success that this series received, but the RX200, RX200S, and RX2/3 completely took the vaping market by storm.  The RX300 is latest to hit the series, and it's set to become the next generation flagship device within a list of mods that are known for their appearance, performance, and their friendly cost.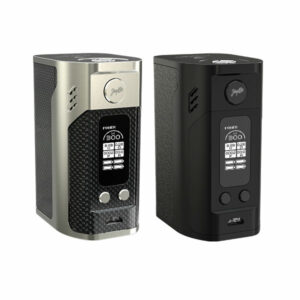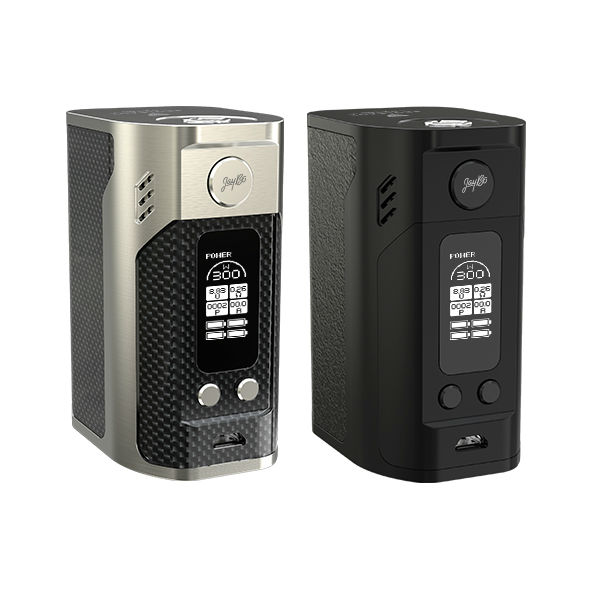 The RX300 is constructed of a zinc alloy material and uses leather or carbon fiber trims for a luxurious appearance.  It stands just 81.7mm tall, 42mm wide, and 58mm in depth.  It's available in black with a carbon fiber trim, black with a leather trim, silver with a carbon fiber trim, or silver with a leather trim.  At the top of the device there is spring-loaded 510 connection with stainless steel threading.  The front control face offers up a 3-button layout in a classic RX arrangement.  For your viewing pleasure, there's a 0.96″ OLED screen with a vertical stack, showing six rows and two columns.  As you may already know, the Reuleaux RX300 houses four 18650 batteries that's held in securely by a bottom flip open and lock design latch.
Due to its ability to hold quad 18650 batteries, the Wismec RX300 has the capability of ranging from 1 watt and up to 300 watts, with 50A maximum output current.  The equipped Wismec RX chipset is firmware upgradeable, which allows for pre-heat ability and a custom logo.  With great power, huge battery life, and a sophisticated chipset the RX300 also sports a full temperature control suite that allows you to take advantage of Ni200 Nickel, Titanium, and Stainless Steel wire.  Additionally, there's a three memory TCR mode that allows for fine tuned temp control.  While using the TC feature you'll be able to range from 200 to 600 degrees and fire atomizers down as low as 0.05Ω.
Making our way back to its battery configuration, the OLED screen also displays individual battery life indicators so that you know how each battery is performing.  However, there's also an advanced battery balancing trickle charge system that ensures equal and efficient charging to all of the batteries.  And lastly, the RX300 is 1.5A Avatar Quick Charge Compatible, and as a separate option you can buy a reverse charging adapter that screws into the 510 connection and coverts the RX300 in a power bank.