What's Included With The GX350 Mod
The GX350 Mod is available in two different configurations, one with the mod itself, and another that comes as a full kit that includes the SMOK TFV8 Cloud Beast Tank.  We're going to list all items that come in both packages so that you're aware of what exactly you should expect depending on which GX350 route you've bought or plan to buy in the future.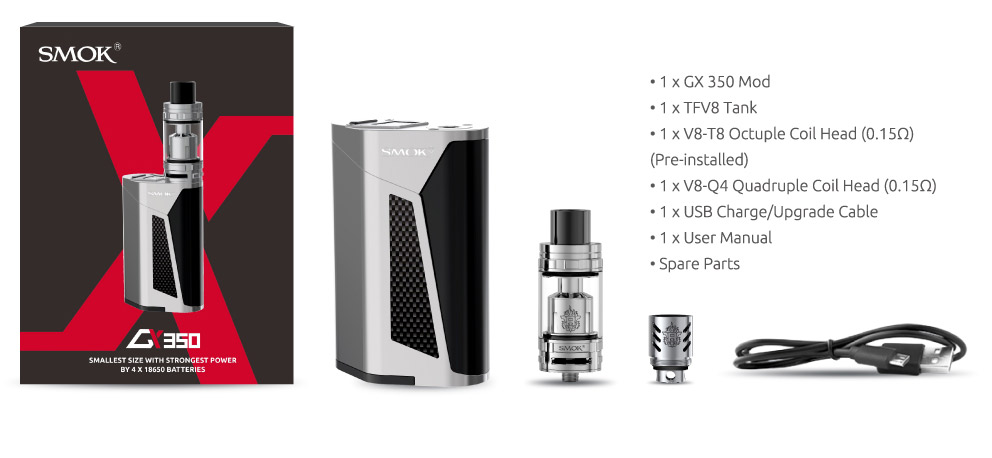 [mks_col]
[mks_one_half]
SMOK GX350 Starter Kit
1x GX350 Mod
1x TFV8 Cloud Beast Tank
1x V8-T8 Octuple Coil Head
1x V8-Q4 Quadruple Coil Head
1x Replacement Glass Tube
1x Spare Parts / O-Rings
1x Micro-USB Cable
1x Instruction Manual
[/mks_one_half]
[mks_one_half]
SMOK GX350 Mod
1x GX350 Mod
1x Micro-USB Cable
1x Instruction Manual
[/mks_one_half]
[/mks_col]
The real difference between the two offerings is that one comes with the TFV8 Cloud Beast Tank and its accessories that are included with it.  However, what you must know is that the GX350 Mod is typically sold as a full starter kit, rather than just the mod itself.  In fact, you'll have better chances of finding the kit than the mod itself being sold by most popular vendors.  However, we've already done the searching for you and have found both options, which are available by visiting the buttons placed below.  We highly recommend going with the starter kit, as it comes with the TFV8, a tank known for its great performance.
Note: The SMOK TFV8 won 1st place in the Best Sub-Ohm Tank category on GuideToVaping's Best of 2016 event.
[mks_button size="medium" title="SMOK GX350 STARTER KIT" style="rounded" url="https://www.directvapor.com/smok-gx350-350w-tc-vape-starter-kit.html?A=1025″ target="_blank" bg_color="#000000″ txt_color="#FFFFFF" icon="" icon_type="" nofollow="1″]