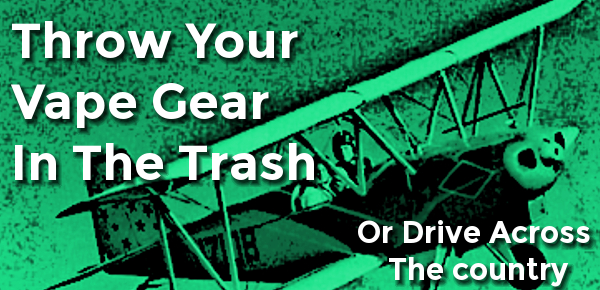 There is a Senator in the United States congress who has completely defied logic, calling for a complete ban of electronic cigarettes from flights in the United States.  If you share one article on Facebook, Twitter and other forms of social media today, make sure it is either this one or the SFATA link I will be posting below.
As we already know, the use of electronic nicotine delivery systems is banned on planes, and vapers have no problem with that.  Late last year, the FAA and federal government decided that placing these devices in the cargo hold of planes could be considered dangerous after a couple of mishaps and poor battery safety measures caused fires on an aircraft.  Again, vapers were perfectly fine with this measure — passenger safety is paramount when travelling at 35,000 feet and no one wants fire beneath their feet.
Unfortunately, we now have a Senator proposing an amendment to a bill that would see these devices entirely banned from aircraft due to these alleged safety issues.  We will spend the next couple of minutes looking at exactly why this proposal is unnecessary and potentially dangerous, not only to the health and safety of the vapers who are being singled out, but also to the profit margins of airlines, Apple, and everything else in your life that contains a Lithium Ion battery.
Whats In The Amendment
SA 3547 reads as follows:
SEC. 5032. REGULATIONS RELATING TO E-CIGARETTES.
(a) In General.–Not later than 180 days after the date of the enactment of this Act, the Administrator of the Pipeline and Hazardous Materials Safety Administration shall, in coordination and consultation with the Administrator of the Federal Aviation Administration–
(1) finalize the interim final rule of the Pipeline and Hazardous Materials Safety Administration issued October 30, 2015, pertaining to e-cigarettes; and
(2) expand that rule to prohibit the carrying of battery-powered portable electronic smoking devices in checked baggage and in carry-on baggage.
(b) Definition.–In this section, the term "battery-powered portable electronic smoking devices" means e-cigarettes, e-cigs, e-cigars, e-pipes, e-hookahs, personal vaporizers, and electronic nicotine delivery systems.