In a message that can't get any more blunt, "If You Can't Be Original, Get The F#!k Out" will be focusing on Trademark infringement in the vaping industry.  Regardless of how many advocates, politicians or assaulted companies scream and yell at unimaginative morons attempting to make money off the backs of other peoples branding, it is still happening.
I promised myself a long time ago that this was an article I would not write, and as far as I am concerned I am helping ANTZ with their case against the vaping movement by writing this, BUT as a vaper who deeply cares about this industry and community, the following paragraphs are things that really need to be said.  Last year, we had the FDA outright telling industry leaders to nip the marketing strategies of many companies in the bud before they stepped in and did it for us, and unfortunately we still have morons who wont listen.
While I will attempt to keep it in check, the following article may contain brief nudity, foul language and threats of violence by hundreds of thousands of vapers who want to use reputable companies, not assholes looking to make a quick buck.
We will be looking at a couple of the hundreds of examples of companies who have absolutely no creative license, people who are walking around with their heads shoved so far up their own backsides that they do not understand the concept of stealing the intellectual property of massive corporations, those of whom would quite literally destroy their companies in about the same amount of time it takes to drop a deuce in the morning.
To these thieving little rats, we have a simple message: you aren't big, you aren't clever, and as far as the industry is concerned, you need to pull your products off the shelves and crawl back into your rat holes before we take your crappy copies and use them on you like suppositories.
---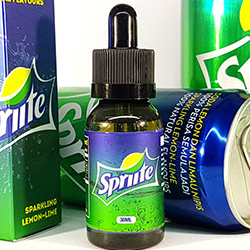 In this first example of trademark infringement, we set our sights on "Spriite".  The Spriite e-liquid flavor is made by a Malaysian company named Liquid Store.  It's showered with the colors, font, logo, flavor and overall appearance that the world-wide known Sprite beverage has offered for years.
They could probably use the excuse that they are not an American company and that in Malaysia anything you find with a "brand name" on it was made 3 streets over in the local sweat shop.
Intellectual rights owned by Coca Cola are world-wide, the same laws that apply in the United States are applicable there, and as a matter of fact if these guys are willing to spend up to 10 years in a Malaysian prison and be fined 40,000 RM per copy, they have a bigger set than anyone who steals on US soil.  Adding a letter to your name while using existing artwork from a multinational corporation is the fastest way to go out of business and into the prison system.
---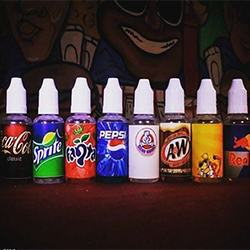 The next example of trademark infringement is a mass-infringer, not only using the name and appearance of popular beverages like Coca-Cola and Sprite, they've also managed to almost complete the soda pop industry to make up their full line of e-liquid offerings.  To name a few: Coca-Cola, Fanta, Sprite, Pepsi, A&W, Red Bull, and more.  Who's behind it all?  Popay Inc. — this company is dying for some attention, stealing the logos, fonts, colors and overall appearance that these beverages are known for.
They use the excuse that their products taste exactly like the products displayed on the label and wish to convey that to their customer base.
Firstly, maybe in your head you have cloned Pepsi, but my taste buds say otherwise, and secondly, have you ever thought of doing something original?  If the extent of your e-liquid manufacturing abilities is figuring out how to clone soft drinks you should probably go back to doing whatever it was you were failing at before jumping onto the vaping band wagon.  There are thousands of juice makers who wake up everyday and try to be original: the only thing you are accomplishing is fucking it up for everyone else.
---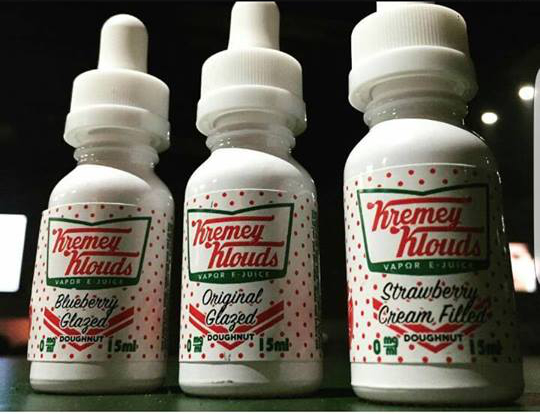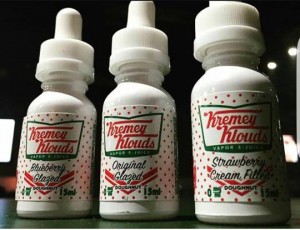 At least our next offering was imaginative enough to change the name slightly, but at the end of the day the color scheme, font, and flavor profiles are exactly matching the well-known confectioner.
The thing about these companies that pisses vapers off the most is that they know they are breaking the law and damaging the industry, but they simply do not care.  We are an adult industry with products aimed at consumers who are over the age of consent yet we are allowing juveniles to run around and piss in the ball pen.
I have 4 bottles of e-liquid on my desk right now that taste like variations of this same companies products, but not one of them requires a label that tells me it is supposed to taste like Krispy Kreme:  the flavor in the bottle sells the product to me, not brand recognition for something they don't own.
---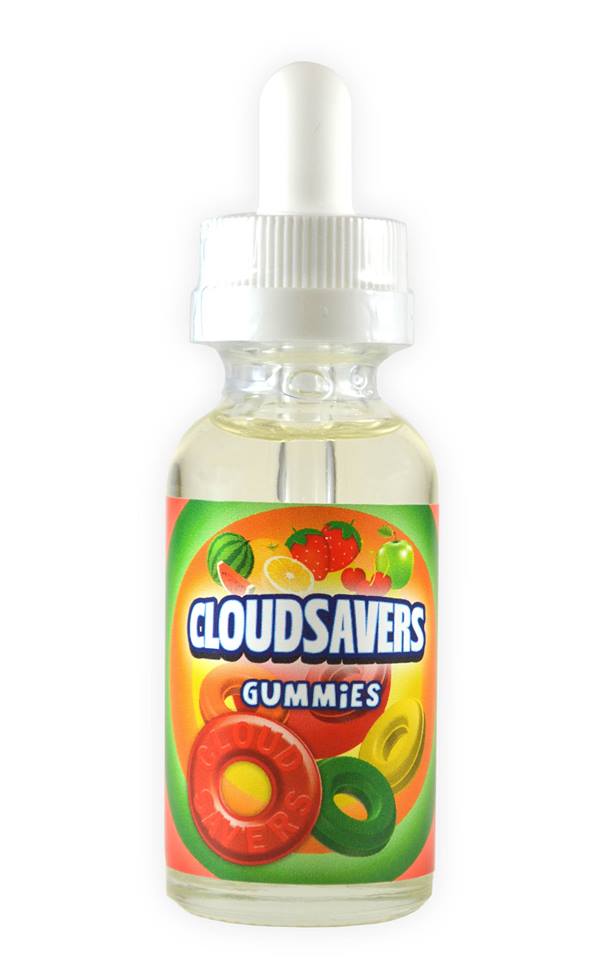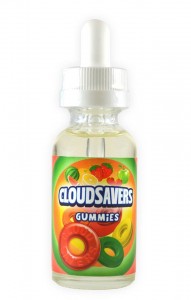 For our last example of mass delusion, let's talk about artwork.  Ripping the label straight off a pack of Life Savers and putting a different name on it will still get you a nice fine.  The color scheme and showing the original product on the packaging will not give consumers a sense of your products worth.  In reality, when the consumer opens this bottle and takes a big fat hit, they will be left wondering if life savers really taste like crap, because I have had the displeasure of tying this stuff and "Gummies" it ain't.
I am not going to sugar coat my feelings towards any of these companies, as far as I am concerned I hope they get raided by men in dark clothes with big guns in the middle of the night and dragged off to jail like the criminals that they are.  These individuals are taking a fight that some of us fight daily and making it a thousand times harder because they want to make a little bit of money: they don't give a rats ass if there is an industry next year, they don't care if people are vaping to get away from cigarettes, the only thing they want is notoriety and sales.
---
Well, they have our attention, but most definitely not in the way they had hoped for.  When a group has been formed on Facebook, just to discuss these morons and look at ways to make them head off into a corner and disappear, you know things are getting bad: when you realize that group is mainly occupied by the biggest names in advocacy and leaders of the e-liquid market, you know these people are about to get shit on from a great height.
The market place is big enough for everyone to become a successful business owner — if you have a product and ethos that belongs in it.
If your idea of becoming the next big thing in vaping is by releasing your red bottle of CuCa Cola, that tastes like Draino but looks pretty, take a little bit of advice:
Come up with original marketing material
Hire a product designer who can help you be original
Create a product that people will want to buy on its own merit, flavor sells not labels
If you can't do these things in good conscience, do us all a favor and fuck off, we don't want you or the drama you will cause.
From the consumer stand point, there are many things we can do:
Do not buy products that look like your favorite brand of soda, Pepsi did not get into the e-liquid market and you are enabling a criminal.
If you see these products in your local vape shop, explain to the owner that you will be shopping else where until they are removed.
If we don't give them the money they are here for, they will go back into the wood work they crawled out of.  We want to keep vaping around for a while and there are plenty of companies who can give us the products we want without giving the Anti Vaping movement the ammunition they need to close us down.
As always, enjoy your vaporizer and vape safe!