Though electronic cigarettes have been around for sometime now, the culture that follows behind these devices are just now really touching base in, what we call, the circle city. With each state a vapor shop has existed not long after the industry's birth, but over time the new phenomenon slowly trickles its way deeper, reaching city to city, and saving life after life. The great city of Dothan has been a bit slower with the process compared to others, but thankfully, we can all say that this alternative, this harm reduction tool, and this culture, has finally made its way to our home… Dothan, Alabama.
Many e-cigarettes users (vapers) band together in states and local areas for various reasons. Some flock to these meets for the support system, while others just feel comfortable around like-minded individuals. These devices are held dearly to many users since it's given them the ability to stop a 10-year, 20-year and even 30-year smoking habit. With that said, the users are interested in discussing what they've learned throughout their time of using an electronic cigarette and they care to hear from others to learn even more about them. For many "vaping" becomes more about the hobby and interest in them, rather than the nicotine – some often reduce their nicotine intake and enjoy the hand to mouth movement and the inhale/exhaling of the vapor.
Moving on, these devices that have made their way to the circle city have gained a following, one's whom have done away with the tobacco that has ruined their life for year's, and have began to band together for what we call, the Dothan Vapers Meet.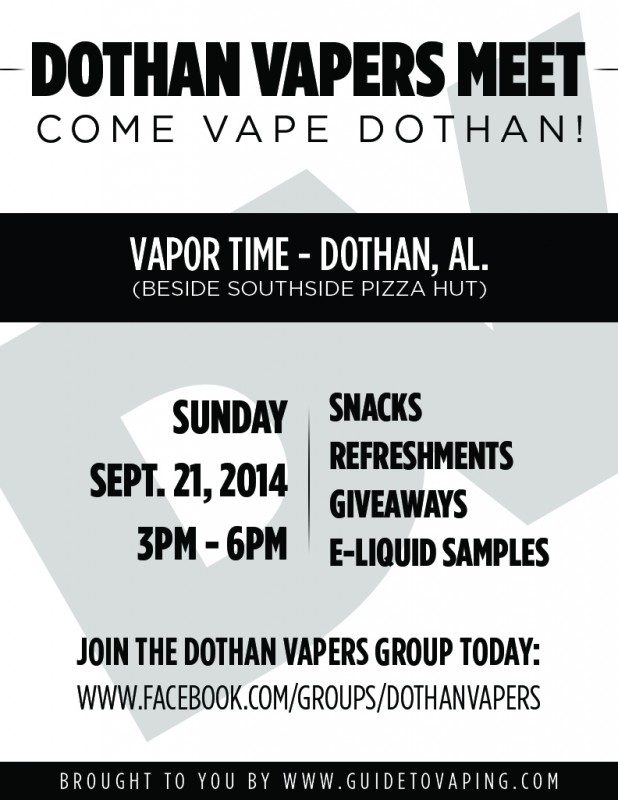 The Dothan Vapers Meet will be held every 3rd Sunday of each month for interested vapers to come along, share some good times with snacks, refreshments, giveaways and e-liquid samples provided by many e-cigarette companies all around the world. We hope to see you all on the 21st!
For information on future meets, locations and scheduling, please visit our Dothan Vapers Meet Schedule.