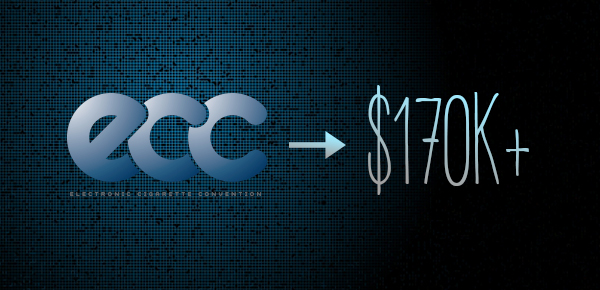 In a recent status update on Facebook, the Electronic Cigarette Convention (ECC) shared that they've spent over $170,000 in their commitment to advocacy.  If that isn't enough of a mind-boggling number, they were also kind enough to share that they've just donated another $10,000 to support The Right To Vape Tour, which is a nationwide grassroots campaign and bus tour led by a coalition of small businesses, trade associations, and public policy organizations.

This post isn't just about the large amount of money ECC has spent towards advocacy efforts, it's about what companies within the vaping industry are doing to save a life saving alternative for consumers.  Amongst the $10K that ECC has dropped on this incredible tour, there are others that are donating so that you and I can continue to vape.  And just to share a few for an example, Boosted E-Juice donated $25K, Cloud Chasers Inc donated $10K, The Vapor Bar donated $25K, You Got E-Juice donated $5K, The Vaporium donated $5K, Phantasm Vapors donated $5K, and you can join this list by donating and becoming a sponsor as well.

The Right To Vape Tour has raised $158,711 so far, and their goal is to reach $225,000.  To fill you in on what you're donating to, The Right To Vape Coalition is organizing a series of press conferences, rallies, and town halls aimed at urging Congress to bring an end to the Food and Drug Administration's regulatory war on vaping.

The campaign is set to launch in October, and you can join them in this movement by visiting RightToVape.org.