Recently we had a featured poll located on the sidebar here at GuideToVaping. We asked you what type of electronic cigarette do you have and your answers poured in over the course of 2 months. If you've noticed, GuideToVaping does a lot of statistical information to not only help you find out what product is top rated or most used, but we also get this information to show you how your fellow vapers are progressing with electronic cigarettes.
Gather this information and put it to good use. Learn and explore why these vapers are using one type of e-cigarette rather than another. Remember, casting your vote will not only result in helping yourself learn, but it will also contribute to others as well. Seek out information, then follow with experience.
We started this poll on September 15th, 2011 and received 327 votes made by 200 voters. 12 votes were casted by registered users, 14 votes were casted by comment authors and 301 votes were casted by guests.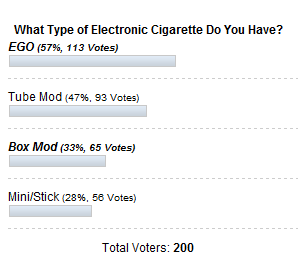 As you can see, the majority of voters own an EGO type electronic cigarette. The EGO e-cigarette is obviously one of the more popular type of e-cigs and just as you may have heard from the community, blogs and other websites including GuideToVaping, the EGO is an all around solid electronic cigarette. The EGO has proven to be a step above your normal stick type e-cig, offering longer times between battery charges, better vapor production and a solid feel.
Thank you for participating in the GuideToVaping poll.