Just a week ago (January 9, 2020), the Food and Drug Administration (FDA) set to ban closed vape systems by ordering companies to halt all manufacturing, distribution, and selling most cartridge-based and pod-based devices that are closed and contain flavors, such as mint and fruity flavors. This ban is said to go into effect as early as February, which gives manufacturers, distributors and retail establishments upwards of 30 days to cease all actions.
Announced officially just last Thursday by the Trump administration, the President's long-debated vaping policy has finally surfaced with plans to better restrict access to young people, while preserving adult access to vapor products. The ban includes devices that are considered closed systems with flavored e-liquid, with the exception of menthol and tobacco flavored pods (cartridges). The problem we face now is that many people are confused by the definition of an open system versus a closed system.
Open System VS Closed System
Open System: An open system vape is a device that can be refilled with e-liquid. This type of device or kit will include the device itself and a pod/cartridge that offers a refillable option.
Closed System: A closed system vape is a device that comes pre-filled with e-liquid, whether the pod is detachable or not. This type of device or kit will include the device itself, which may already be prefilled with e-liquid, or may include a variety of pods/cartridges that are prefilled with e-liquid.
The difference between the classification of open system and closed system devices is that one is refillable and the other isn't. Despite what some people are telling you, the following devices are considered by definition a closed system: Juul, Puff Bars, Apollo Brez Vape, Phix E-Cig, and the like. If you CAN FILL the pod or cartridge with e-liquid, it is OPEN to be filled with e-liquid. If you CANNOT FILL the pod or cartridge with e-liquid, it is CLOSED and cannot be filled with e-liquid. A disposable e-cig or vape comes pre-filled, cannot be refilled, therefore it is considered a closed system device, however…
Matthew Salter Posted on January 7 at 12:09 PM:
"The recent ENDS guidance for flavored pods was published in the Federal Register this morning. Shops and retailers have 30 days from today to clear out their stock of flavored pre filled pods such as juul, blu, vuse, juno and all compatible style pods such as eonsmoke, Sea pods, etc."
Link: Federal Register
NOTE: Despite the confusion, although Disposable E-Cigarettes, such as Puff Bars, is what is considered a closed system vape device, they are exempt from this rule for the time being because of a footnote.
We asked Matthew Salter of Vape Rescue LLC to elaborate a bit more for us all to understand:
He simply sent us a snapshot image that made it clear — "An example of products that would not be captured by this definition include completely self-contained, disposable products."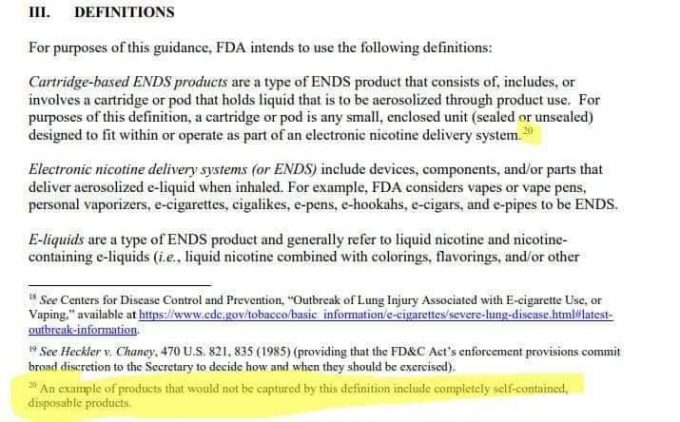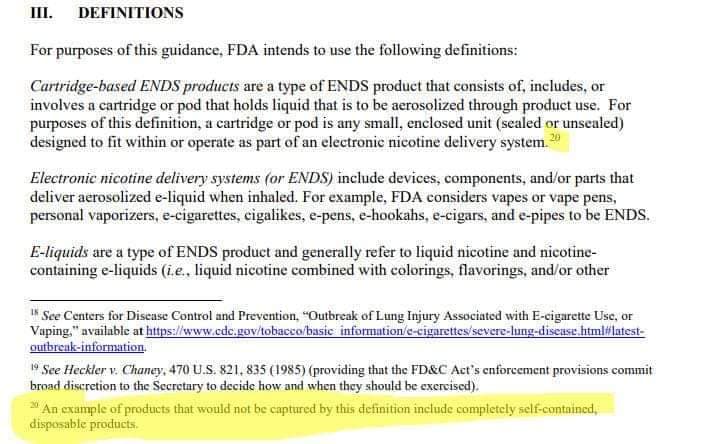 Why Ban Vaping Products?
The ban stems from the recent uproar the vaping industry has endured due to an increase in youth vaping. While many believe the black market THC carts that contained Vitamin E was the ultimate cause for the industry's latest troubles, it wasn't. Juul, the e-cigarette giant that first introduced closed system pod/cartridge devices that contained a variety of flavors in a salt nicotine e-liquid stumbled heavily on its marketing tactics and made its product easily obtainable to the masses, including our youth. It isn't just the flavors that will entice kids enough to begin vaping. Flavors alone are in a variety of products, such as alcohol, edible underwear, and many others. We aren't experiencing a teen epidemic of kids eating edible undies, are we? Maybe tide pods but definitely not edible underwear.
The problem lies in the access youth has to vapor products and the real reason why they want to vape, which is a problem that began when Juul entered the market. The Juul devices include closed system flavored pods that contain 50mg of nicotine. Young people are vaping these extremely high nicotine pods to experience a 'buzz', which is caused by inhaling too much nicotine at once or much more than their body is used to. Don't believe us? Here are some YouTube titles of published videos revolving around the topic:
"Fastest Way To Get Nicotine Buzz!"
"Vape vs Dip? (Which has the Bigger Buzz)"
"How To Get More Buzzed"
"Nicotine Buzz!! Truth Behind The Vape!!!!!"
"How To Get Hella Buzzed!"
"Juul Challenge!!!!!!*Insane Buzz* Vape Sesh"
Below is a video from a young person with the screen name "Matt 420". He has published a video of himself using a Juul with the title "How to get buzz of juul pod from hitting all day". He continuously uses the product over and over in hopes of achieving this "buzz" that our youth is frantically seeking.
If you look throughout the comments, there are many young people hyped about this kid getting a buzz from the Juul device, and they even care enough to share their own experiences or help others get this buzz.
re hatch: "I go through a pod a day I only get a buzz in the morning"
Joshua Schmitt: "That's tuff I've gone through a pod in 4 hours"
YxNg EMX: "I usually wait 15-20 minutes after a buzz so I can get another big buzz instead of small ones"
epicgamercasey223: "I find mint pods give the best buzz"
Hitnrun 66: "Yall should get the vuse alto, I used the juul for a month and then I switched to the alto and get a buzz every time"
Our Conclusion
It is very simple. Limit widespread access to the youth while maintaining access to adults and remove high nicotine levels (50mg) off of the market. That is all.