If you've been keeping up with the vaping market like you should, then you've probably heard all about Kanger's new SubTank.  What you may not have heard about is that the SubTank has become a series of hybrid/sub-ohm clearomizers.  Due to its quickly growing popularity, we'll list each SubTank in this series, tell you all about them and refer you to the best and cheapest place to purchase them.
Kanger SubTank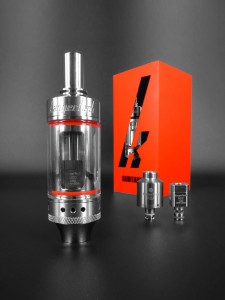 The original SubTank is the latest innovative product that was designed to be very versatile and has truly become the first of its kind.  The SubTank is a hybrid clearomizer, which gives the consumer the ability to use the product as a Sub-Ohm clearomizer with replacement pre-made coils, and the ability to rebuild the atomizer, much like with any rebuildable tank atomizer.  To explain it quickly, the SubTank combines the ease of replaceable coils with the performance of rebuildable atomizers.
With this new stellar design comes Kanger's new OCC replacement coil, which is an "Organic Cotton Coil."  The beauty of this all is that these replacement coils come in 2 resistance level options: 1.2Ω (recommended: 12-25 watts) for those who enjoy a higher resistance, and 0.5Ω (recommended: 15-30 watts) for those who enjoy sub-ohm territory, or low resistance.  Included in your SubTank purchase, you'll also receive four pre-built coils to use on the rebuildable atomizer portion of the clearomizer.
A few sub-ohm coils isn't all this clearomizer has to offer… expect a slew of features such as:  adjustable airflow control, organic cotton coil head, while using the replacement clearomizer coils the SubTank holds 6ml's of e-liquid, while using the rebuildable atomizer the SubTank holds 4.2ml's of e-liquid and the 510 connector is spring-loaded.
Kanger SubTank: GET IT HERE
Kanger SubTank Mini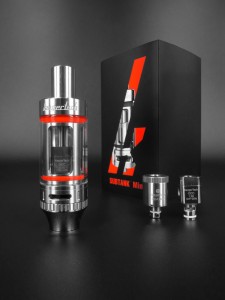 Much like its older brother, the original Kanger SubTank, the SubTank Mini continues as a hybrid clearomizer, still offers its rebuildable atomizer attachment, as well as the OCC (Organic Cotton Coil), which are included in your purchase.  In addition, the enhanced airflow is the same (although some have claimed the airflow is better in the mini) and, like the original, is made in stainless steel and sports a pyrex glass tank portion.
Hence the name, the SubTank Mini does come in a bit smaller though, only 22mm in diameter as opposed to the original, which is 25mm in diameter.  However, since you are getting a much smaller version of the SubTank, your tank will only hold 4.5ml's of e-liquid with the OCC head, while the original holds a very large 6ml's.  Though you're taking a loss, you're also getting a hybrid clearomizer that's in a more comfortable size and looks amazingly appealing on any device.
Kanger SubTank Mini: GET IT HERE
Kanger SubTank Nano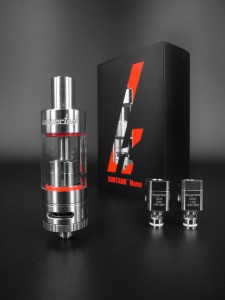 The SubTank Nano is Kanger's smallest clearomizer in the series.  Though the SubTank Nano may be very small, a whole 18.5mm in diameter and only holds 3ml's of e-liquid, it still packs quite the punch since it still has the ability to use Kanger OCC (Organic Cotton Coil) heads.  This means you'll be able to enter sub-ohm territory with this little guy since the purchase includes an 0.5Ω head and a 1.2Ω head.  However, you may get a bit of disappointment to know that the SubTank Mini does not offer the same hybrid clearomizer design, and can only be used in a standard clearomizer format.
Other than that, expect to see the same features found with both the original SubTank and the SubTank Mini, which includes the enhanced adjustable airflow system, the stainless steel body, the pyrex glass tank portion, and as we've mentioned, the sub-ohm capabilities that has swept the vape market.
Kanger SubTank Nano: GET IT HERE
Kanger SubTank OCC Replacement Coil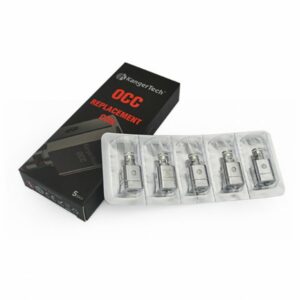 If you plan to jump on board Kanger's latest SubTank series, then you'll definitely need extra coils, at least when using in a clearomizer format.  These square bodied coils are Kanger's latest sophisticated coil technique, which offers 0.5Ω in resistance and uses organic cotton wicking, which is the same as what everyone uses with rebuildable atomizers.  These coils are said to last for long periods of time, provides a pure taste and has a large heating section (large coil), which delivers unrivaled performance.
Kanger SubTank OCC Replacement Coil 5-Pack: GET IT HERE