For years squonking has been a thing to a select amount of vapers, capturing only a small portion of the market. However, the number of those vapers are beginning to rise due to new products that are reshaping the squonk mod market. Though there are many that believe squonking is a new way of vaping that hasn't yet caught on by the masses, it has actually been around for quite some time. In fact, products like the Vapage VMOD and Reo's Mods Reo Grand were some of the first squonk mods to hit the market — of course then everyone referred to them simply as "bottom feeder mods".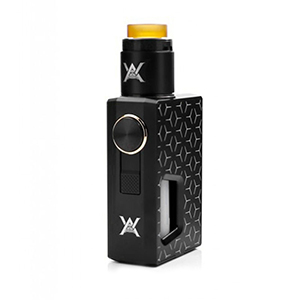 In today's vaping market, bottom feeder or squonk mods still exist, but these newly developed products are beginning to reshape the squonk mod market, and it's starting with the Athena Squonk Kit by GeekVape. The GeekVape Athena Squonk Kit is one of the most remarkable mods you'll ever lay your eyes upon. Many manufacturers have attempted to perfect the squonk mod over the years, but none of them could deliver quite the impact that the mods of our past were able to achieve, such as the Reo Grand. This device was compact, simple in design, convenient, easy to use, and featured visually appealing color options. The GeekVape Athena Squonk Mod has achieved the same classic features with a modern twist to its outer design and internal parts.
To give an example, the Athena Squonk Mod features a small, compact size yet offers a 6.5ML e-liquid capacity using a silicone squonk bottle. It also boasts a squonk ready RDA that uses a dual postless build deck design coupled with a deep juice well and a top-angled airflow design for superior flavor output. Another product example that's reshaping the squonk mod market is the iJoy Cap Squonk Kit, a futuristic development of the classic squonk mod. It uses modern styling that resembles the sleek and curvy lines of a high-performance sports car. Aside from its marvelous appearance that's available in five sexy color options, the iJoy Capo Squonk Mod is capable of unleashing up to 100 watts that's powered by either a top loaded 21700 or 20700 iJoy branded battery. With additional features such as a large OLED display, a three-button control, built-in protection features and a full temperature control suite, you can easily begin to see just how far the squonk market has come.
Whether you were squonking as far back as 2011 or you're squonking present day, the idea behind this style of vaping hasn't changed one bit. However, the products that allow us to vape this way have certainly changed and it's becoming clear that the squonk mod market has reshaped into something that even more vapers will stand behind.