Scattered across multiple industries, the name "Savage" is becoming increasingly popular for those that prefer products that displays overwhelming quality with equally impressive pricing. Since its thrusting move forward into the vaping industry, Savage Enterprises has been full-throttle, landing itself in an area where only some of the finest brands reside. It has continued to carry on the momentum by introducing Savage CBD, which is a brand that features full-spectrum Cannabidiol in a variety of products. While in today's article we're going to definitely get you more familiar with the brand as a whole, we're going to be focusing heavily on its ejuice in this Savage CBD Ejuice Preview.
About Savage CBD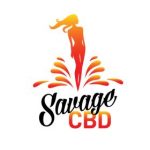 With its journey beginning in early 2017, Savage CBD leaped into the Cannabidiol (CBD) market with full speed to help people by offering what they believe to be top quality, lab tested, natural Hemp products with affordable pricing. The company is headquartered in Orange County, California where it operates in a large facility by a staff of 12 highly talented people. Though the company has only seen daylight for a mere two years, it rests under the umbrella of its parent company, Savage Enterprises, which was established in 2015 to help people with a desire to stop smoking. Although Savage Enterprises was given birth in 2015, Chris Wheeler (Savage Enterprises Founder and CEO) had already developed Savage E-Liquid, a brand that is comprised of a variety of e-liquid flavors throughout a series of different collections, including its Savage E-Liquid Limited Edition Collection, the Savage Devious Collection, and the Savage E-Liquid Nic Salt Series. It's easy for one to see the incredible journey this brand has had to face throughout the years, but one thing is for certain, it's made them "Savage" as f**k!
Savage CBD Ejuice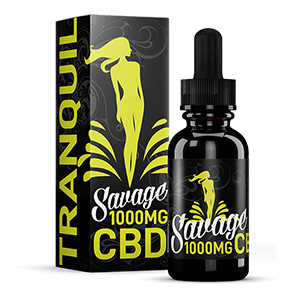 If there's one thing you'll learn about the Savage CBD brand, is that all of its products are truly savage. The brand has become one of the most popular within the Cannabidiol industry due to its large variety of products, including its CBD Tinctures, CBD Cartridges, CBD Pet Spray, CBD Capsules, CBD Softgels, CBD Lotions, and of course, the Savage CBD Ejuice — all of which are Full-Spectrum.
While those of you who are more familiar with Cannabidiol understand that it provides you with many powerful benefits that are capable of treating various symptoms, such as chronic pain and severe anxiety, you may have not known that CBD ejuice is one of the most popular methods of medicating when it comes to the many forms of CBD delivery. Savage CBD provides those powerful benefits from a full-spectrum, high-quality CBD ejuice that's available in multiple flavors and strengths to suit your preference. Each bottle contains 30ML of full-spectrum CBD ejuice and you have a choice between 250mg, 500mg, and 1000mg. There's a total of 5 unique flavors to choose from, including Driven, Hustle, Passion, Serene, and Tranquil. Within the line-up, there is also Vape Shot, which is a flavorless CBD additive that was designed without flavor so that you can add CBD to any of your preferred ejuice flavors.
If you have any concern of its ingredients, worry not. Savage CBD is one of the most transparent companies on the block, and it openly shares that in each bottle contains Propylene Glycol, Vegetable Glycerin, Cannabidiol (CBD), and Natural and Artificial flavor concentrate. Additionally, the company is also very forward in expressing that its CBD ejuice and the rest of its products are Lab Tested, Pesticides Free, GMO Free, and THC Free.
Savage CBD Ejuice Flavors
Now that you are more familiar with the brand, its story, and its variety of products, including information regarding Savage CBD Ejuice, we want to tell you more about its CBD Ejuice flavors. Look over the collection of Savage CBD Ejuice flavors — you may just find a flavor that catches your attention.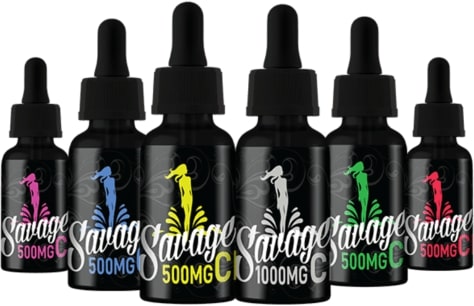 Driven CBD Ejuice by Savage CBD: While enjoying the benefits of this full-spectrum vape, you'll notice the fabulous taste of blueberry with subtle hints of sour razzmatazz.
Hustle CBD Ejuice by Savage CBD: If there's one thing for certain, you can appreciate the 'Hustle' that it took to create this flavor that tastes just like freshly baked cookies smothered in juicy raspberries and sweet frosting.
Passion CBD Ejuice by Savage CBD: This is one that was in original development and set fire to the Savage CBD collection. It consists of a variety of uniquely mixed flavors, which includes mouthwatering watermelons and pink candy that's infused with sprinkles of sour.
Serene CBD Ejuice by Savage CBD: For those that are die-hard Apple fans, you're going to love the brilliant concoction of flavors that went into this one. It's crafted with both green and red apples, then thrown for a loop with slight notes of candied sour.
Tranquil CBD Ejuice by Savage CBD: The name does it all the justice, as Tranquil delivers that calm and satisfying experience from a variety-mix of flavors, including mangos, coconuts, and blood orange.
Vape Shot by Savage CBD: Believe it or not but this one is flavorless, and it was designed that way too! Vape Shot is a pure and solvent-free CBD vape additive that was created without flavor so that you can add it to your other vapable ejuice flavors that you're too in love with to do without.