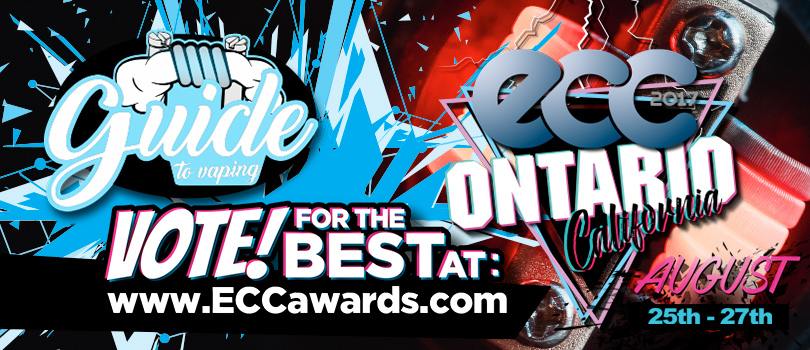 Guide To Vaping and ECC presents The Best of ECC Ontario 2017, a unique polling system to bring voting to the ECC Trade Show and Expo that's being held at the Ontario Convention Center in Ontario, California on August 25-27, 2017.
For the second time this year, ECC has asked Guide To Vaping to run and operate the ECC Awards. And, we've gladly accepted! Guide To Vaping had the privilege of utilizing our unique and highly popular polling system at The Best of ECC Detroit 2017, and due to the amazing success with the awards part of the event, we're back! We welcome all exhibitors and attendees to The Best of ECC Ontario 2017!
[mks_toggle title="ABOUT: Guide To Vaping / ECC" state="close "]
Guide To Vaping is a blog owned and operated by Blake Brown since 2011.  It focuses on sharing unique, deep-rooted, information driven articles about vaping.  Guide To Vaping writes and shares vaping news, studies, guides, how-to's, reviews, general articles, and hosts the first ever annual Best of online event for the vaping community.  Feel free to check out some of our articles at GuideToVaping.com.
ECC (Electronic Cigarette Convention) is a trade show and expo geared towards the vaping industry.  ECC is the largest vape expo in the United States.  It gathers the industry's leading brands and connects vapers and vapor business owners with hundreds of manufacturers during a 3-day special event.  ECC will showcase a range of products and services from leading exhibitors, such as e-cigs, e-liquids, mods, accessories and new innovations within the industry.  Learn more about ECC at ECC-Expo.com.
[/mks_toggle]
[mks_toggle title="How To Participate / Vote" state="close "]
NOTE READ HERE FIRST: When attempting to vote, please turn off your WIFI and use the Internet from your mobile carrier.
1. There are 5 categories to vote on. You are given 3 choices. Choose the proper choice, and go to the next category.

Option 1: Choose from a list of entries previously submitted by other voters.
Option 2: Manually write in your own entry IF it doesn't already exist in the list in option 1.
Option 3: Skip the category entirely.

2. Once you've completed one of the three options in each category, click the Submit button.
3. You will then be asked to Login or submit your email. Doing this finalizes and records your entries and votes.
4. Next you are given the option to share your participation.
5. You will then be redirected to the results page.
[/mks_toggle]
[mks_toggle title="Rules & Guidelines" state="close "]
Voting Starts on August 25th, 2017 and Ends on August 27th, 2017 (Mid-Day).
Only ECC Ontario Exhibitors are allowed to participate.
Votes are recorded by browser cookie and IP address – One vote per user/ip.
Exhibitors must enter their brands and own products in appropriate categories if voters haven't already done so.
All entries or votes cast to non-attending exhibitors will be removed.
Entries and votes are based only on ECC Detroit products and exhibitors.
If you are caught giving away free product in exchange for votes, your company/brand/products will be removed from polls.
[/mks_toggle]
---
The Best of ECC Ontario 2017
Best of ECC Ontario
1st Place: Taffy King (158 Votes)
2nd Place: Shijin Vapor (154 Votes)
3rd Place: TVL (153 Votes)
Best Brand – ECC Ontario
1st Place: TVL (153 Votes)
2nd Place: Shijin Vapor (150 Votes)
3rd Place: Rype Juice (131 Votes)
Best Booth
1st Place: TVL (158 Votes)
2nd Place: Shijin Vapor (156 Votes)
3rd Place: Broadside (117 Votes)
Best Hardware/Device Product
1st Place: Broadside (247 Votes)
2nd Place: TVL (202 Votes)
3rd Place: The Rig Mod Descendant (44 Votes)
Best E-Liquid Product
1st Place: Shijin Vapor (154 Votes)
2nd Place: TVL (143 Votes)
3rd Place: Rype Juice Company (123 Votes)