The best CBD disposable vape pen is something many people are beginning to ponder due to the popularity of both disposable vaping and cannabidiol (CBD). The medicinal benefits of CBD are soaring through the roof and now that vaping is more publicly acceptable, vaping CBD is the industry's latest buzz.
In truth, our "best" is merely an opinion and can only be described as a product that we feel trumps others in its category. Sharing from experience, all CBD disposable vape pens are not equal by any means. I have personally tried some flavors that literally made me gag. Of course, flavors are also very subjective, so either way, you go, you're taking a chance. However, the good thing is that disposable vape pens are very affordable.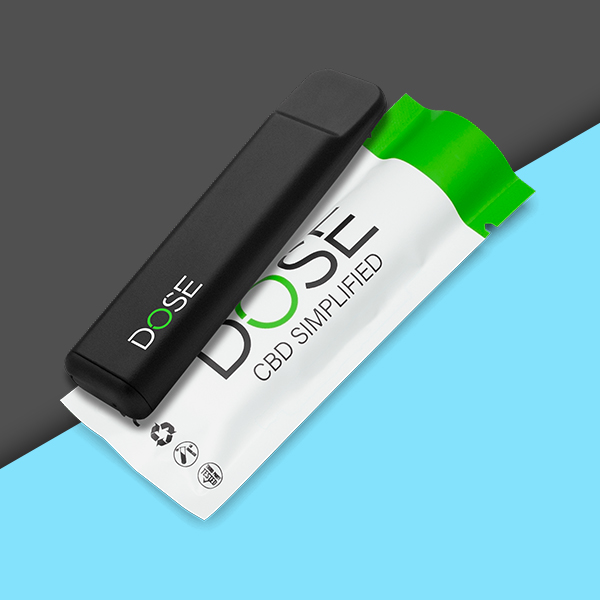 Best CBD Disposable Vape Pen
After trying several, we've found what believe to be the best CBD disposable vape pen. Parented by Nicopure Labs is the DOSE brand, which has quickly become one of the industry's favorites. Two legendary names in vaping, both Halo and eVo, merged back in early 2019, expanding their combined portfolio and experience, along with creating innovative products like the DOSE CBD Disposable Vape Pen.
The DOSE disposable takes on a simplistic, all-in-one design that features incredible structure and a comfortable feel. It comes pre-charged with an internal battery equipped to hold a charge until you've vaporized all of its contents. Nestled inside is also 1ml of CBD vape juice available in 5% CBD Isolate. There are three flavors to choose from so that you are sure to enjoy every bit of the experience, which includes Mango, Berry, and Pear. What is the best CBD disposable vape pen? It is the DOSE disposable vape!
DOSE Disposable Flavors
With three flavors to choose from, you are sure to enjoy your CBD vaping experience. Because of the great flavors, convenience, amazing performance, and simplicity of the device, this is why we feel that the DOSE disposable is the best CBD disposable vape pen on the market. Check out more information about each flavor.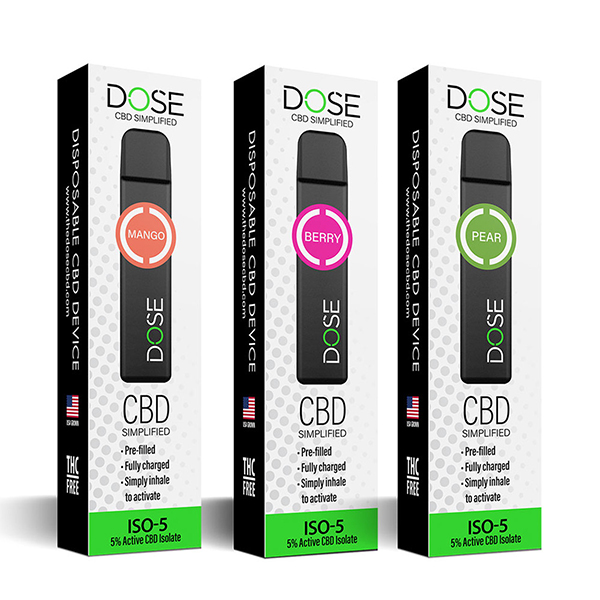 Mango
The Mango flavored DOSE disposable offers an outstanding taste. You'll enjoy a smooth, tropical vape that consists of delicious mango that is lightly infused with fresh, juicy peaches. The two flavors pair well with one another.
Berry
The Berry flavored DOSE disposable is a flavor that you won't forget. It is a tasty berry flavor that is complemented perfectly with a fresh 'dose' of mint flavor. You'll enjoy a delicious vape that is smooth and cool in every draw from start to finish.
Pear
The Pear DOSE disposable flavor is another exciting flavor that you should definitely consider. It ultimately consists of a juicy, delicious green pear that tastes absolutely phenomenal. If you are looking for a unique flavor, this is it.