When it comes to battery safety and knowing which batteries should be used for vaping, we have no greater knowledge base than Mooch.  While others invest heavily in "bro-science" and listening to what they were told at the vape shop, we have an un-caped crusader looking to do what's right by the vaping community and have us all use only the safest batteries in our devices.
In a post from late last year on ECF, he gave us great scientific information on various batteries, broke down exactly what they are capable of and underscored the fact that the majority of "re-wrapped" batteries seriously over state their true power.  While we have many batteries to choose from, it would be better to stick to the big 3, consisting of LG, Sony, and Samsung — for the sake of safety and the guarantee that you are actually getting what you pay for.
Know The Rule
Before we get started, there is a pretty important rule we must consider: use the right battery for the right job!  While everyone is moving towards regulated devices with multiple batteries, there are a lot of newer vapers who haven't had to go through the hardships of using a tube and having to do all the math to keep their fingers.  Mooch suggests using cells that will give the best performance while remaining cool under fire. Not literally fire, but when they are in use.
The higher the Amp rating, generally, the lower the MilliAmp Hours (amount of juice in the tank) the battery will have, so you have to find the middle ground.  If you have no intentions of running 0.15 Ω on a single 18650 tube, it is more than likely you will not need an LG HB 6, as it only has 1500 MAh.
Battery Brands: The Big 3
As we already mentioned, the Big 3 battery producers for vaping are LG, Sony, and Samsung.  These companies have massive factories where they have spent many years on the design and creation of the cells that we use today.  Mooch says that the majority of other companies on the market, such as those that purport to have been designed specifically for vaping are normally re-wraps of one of these offerings, generally pushed off the production line as inferior products.  We always talk about battery safety, making sure that wraps aren't torn or that you don't throw loose batteries in your pocket with keys, but the most important lesson we can learn is to only use cells that are from trusted sources.  Some of these other companies products may not be that bad, but in truth I personally wouldn't gamble to save a couple of dollars.
What Does Mooch Suggest
In the image below, we have listed the Top 5 picks, their capacity, and continuous ratings.  As vapers, we pulse our batteries which will allow them to run cooler, and in pulse they can be used at slightly higher amperage.  The main reason that Mooch has not marked their "pulse rating" is because there is no specific information as to how they got to that number (there is no set test between the companies, so one guy could hold it for a 3 second burst and come to one number while another may hold it for 10).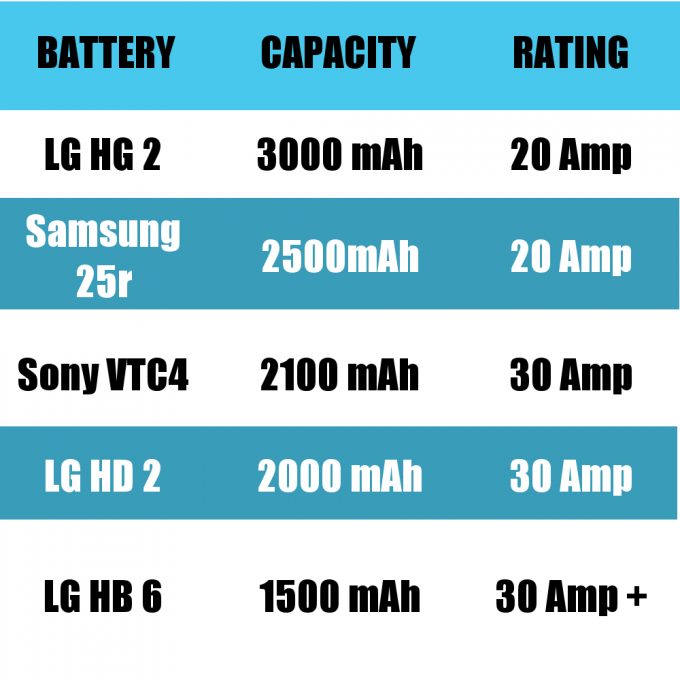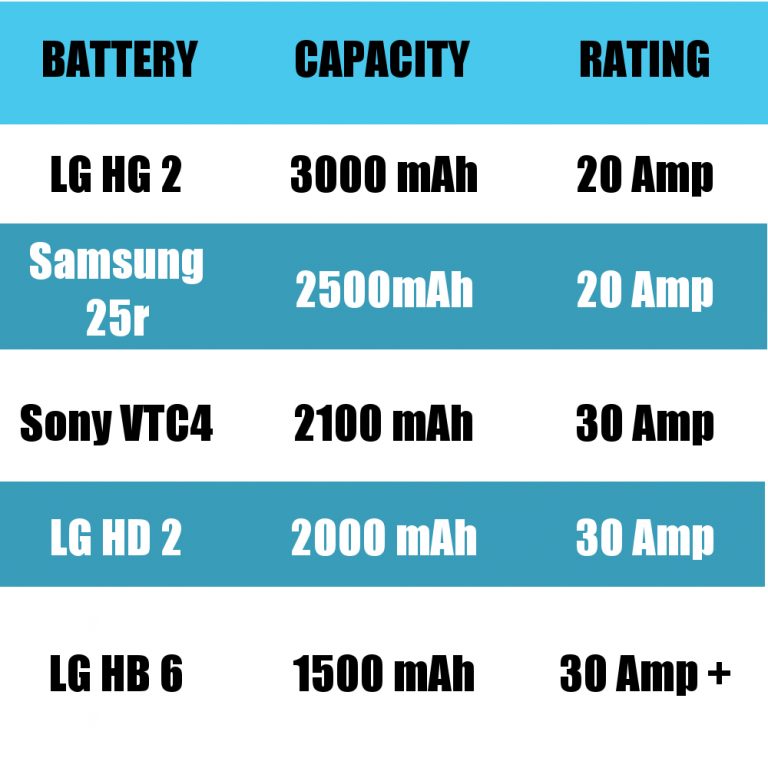 Don't forget to go to Mooches original post to get as much information as possible on these and many other batteries that are currently in use.  While you're there, don't forget to leave him a comment just to say thanks for looking out for all of us.