The vaping media networks have always been quite the hit in this small niche market and the community that follows steadily crave more outlets for participation and entertainment. From the forums to the radio and video broadcasts, it's becoming apparent that this community is witnessing a dominant vaping media network.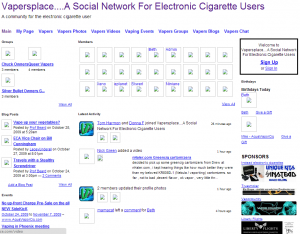 Vapers Place; also known as VP Live, was first introduced online back in September 17th, 2009. The site was originally created as a social network or community for electronic cigarette users. Participating users could create their own page, events, groups, share photos, videos and chat. Within 17 days of going live, Vapers Place was immediately a hit and quickly gaining over 100 registered users. By February 10th, 2010… Vapers Place has gained another 442 registered users, staying consistent, another 485 by April 4th of 2010. Within just the first 7 months, Vapers Place was growing strong, already having the likes from more than 1000 registered users and began to officially set its path.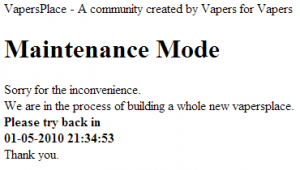 On May 3rd, 2010 – Vapers Place temporarily closed the doors for maintenance mode with a message that read "We are in the process of building a whole new Vapers Place.". With that being said, by the 10th of May, VP opened back up with a whole new and updated look. On top of the new look, just 4 days later, VP has reached up to 76 user-created groups and 1064 active members.
With the ongoing visual transformation Vapers Place faced, the new members kept pouring in and now above 1,300. In that time, it was vital to keep up with the members giving them more features like the newly added Classifieds section on July 4th, 2010.
The Radio Broadcasting – On July 17th, 2010… it finally appeared for the first time. VP Live was created and then onto its first show on July 19th, 2010. The radio broadcasted show seemed to make quite the positive impact on its already thriving community with responses like:
Dug the call in show. Good stuff! – Scott, VaporCast
and other comments like…
Thank you guys, great show!! – Blindsoup
As the shows continued with schedules like "An Hour With Vaping Valerie on Sunday, August 8th at 9:00pm est" and "An Hour With Spikey on Friday, August 13th at 9:00pm est", you can see from these names that it was sure to be some 'interesting' content. Moving forward to Sunday, November 7th at 9:00pm est "An Hour with CASAA" and Sunday, November 14th at 9:00pm est "An Hour with the NVC". Before this time, Russell Wishtart was brought onto the show with his show "Click, Bang!" and Jacinda was sharing the CASAA updates. In addition, Vapers Place has since gained more than double its user-created groups at its highest of 107.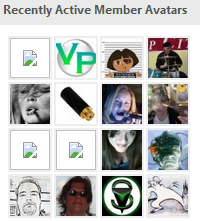 In Febuary of 2011, now just 7 months away from Vapers Place's 2 year anniversary  the classifieds section is looking weak, but that didn't mean its members weren't active. It's easy to see that Vapers Place not only had a following from its popular VP Live Talk Radio, but its member also kept an active environment that continued for the vapers, by the vapers – a slogan that has stuck with the community since day one.
During the Click, Bang! show "Major Fucking Announcement", Russell Wishtart announced the Vape Team on October 25th, 2011.
The creation of the VapeTeam was announced last night by Russ at 9:00pm EST. at VapersPlace.com. As of right now VapersPlace is a Live talk radio and what was said on last nights live feed is that with the VapeTeam also comes a new video chat, said to be nothing like anything we've ever experienced before. The VapeTeam claims to have a new video chat show where the viewers can interact and voice their opinion instead of sitting on the sidebar cam like you typically see on other vape networks.

Blake, GuideToVaping.com
Later in the night on the discussion of the new VapeTeam, Dimitris says…
The VapeTeam will be a team focusing more on the new vapers, while at the same time keeping informative information coming to the most advanced vapers. Whether you are new to vaping or even if you've been doing it for years, there is always something to learn.
The Vape Team just 15 days later gave GuideToVaping.com exclusive access to participate in the first official beta testing for the VapeTeam. This means we got to see the full setup of how everything would run, a demonstration of how the giveaways would differ from other networks and most importantly, how the community could take part in this soon to be 'new hit'.
At this time, there was so much hyped involved in this new direction for VP Live, so the community thought: "was it everything that it was said to be with the different video outlet than the regular Stickam?"
Guide To Vaping's response:
Yes… it was. I'm taking multiple monitor setups, synergy linked masterpiece of awesomeness. This looked like a breeze from the viewers standpoint, but seeing Jamie's job at hand, I had to stop him in the middle of the testing and ask him "With that type of setup, how is it even possible to keep track of what's what? I would rack my brain and possibly lose control!"
 Jamie AKA Google Boy Responds:
I've been doing audio and media for several years and this is definitely the most complicated setup I have done. My main keys were reliability and quality. I have many professional equipment running with the goal to provide the best quality possible. When I'm doing a team show, we are not all in the same room. I have to be able to get the feel not only for the audience, but the hosts and guests to get that communal feeling.
See the full story "Exclusive News on The VapeTeam"
Later that night, the Vape Team aired its first show on November 9th, 2011 at 9:30PM EST. – The show was of course a big hit and has been airing every Wednesday night since. Vapers place continued to thrive, pulling in more members, listeners and viewers that once the GuideToVaping's Best of 2011 was announced, Vapers Place and its hosts and shows won first place in multiple categories signifying the impact it has made throughout the vaping community. Vapers Place went on to receiving 5 awards in categories such as "Best Network Content" and "Most Entertaining Host / Show" just to name a couple.
As time went on and a new year  of 2012 came to, Vapers Place had dominated the Vaping Media Network with its always interesting Live Talk Radio, its entertaining filled Video Show and its ever-growing community for vapers… by vapers.
Moving on and looking forward to a near year, Vapers Place went on to winning multiple categories yet again in the Best of 2012, its second year now voters within the community are displaying the impact the Vapers Place has made. The network pulled in 7 wins for its different hosts and shows in multiple categories and more than 2000 votes in total.
Vapers Place / Kevin, Thank you for the continued entertainment and informative content… but most of all, thank you for your dedication to the electronic cigarette community.
If you're interested in visiting Vapers Place or any of the other shows on the network, you can visit www.VapersPlace.com