VaporFi VAIO 80 or VaporFi VAIO 75, two products from the VaporFi shelves that most vapers have never heard of.  We've spent some time going over the various mods available from VaporFi because we believe in companies that look out for their customers.  Especially when the products they provide start from a vast array of e-liquids to full on vaping systems, which are second to none.
Today, we're going to take a quick look at 2 All-In-One devices that sound similar in name, but are worlds apart.  Either would be a welcome addition to anyone's collection, from brand new vapers looking for easy-to-use systems, to the advanced vaper looking for a mod that won't let them down.  Let's take a look at the similarities, the differences, and find out why we recommend these VaporFi products above similar products on the market.
VaporFi VAIO 75 TC Mod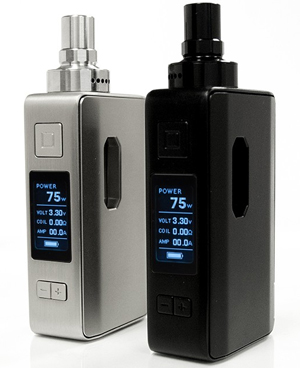 Measuring in at 48mm by 25.5mm by 82mm, this all-in-one package runs on a single 18650 high amp battery — sold separately — and was designed to keep you vaping all day long.  With an enclosed 3.5mL leak-proof tank, the overall design is similar to other AIO devices that have been released.  The top-filling, "clean hands" approach to tank design has become popular for a reason.  A convenient cut out tank window will allow you to see when the tank needs refilling and also serves as a good-looking feature.
Power mode up to 75 watts, temperature control settings to work between 200°F and 600°F — 100°C and 315°C — TCR and Memory mode… this little beast has everything you need for mid-power vaping.
While the built-in tank comes with options for both low-volume vapers and cloud chasers, the VAIO 75 also comes with an adaptor to allow other tanks to be attached to the device.  Whether you choose to use the built-in or your favorite RDA is entirely up to you, but either way VaporFi has made sure that the device lives up to its strict standards for quality and safety.

VaporFi VAIO 80 TC Mod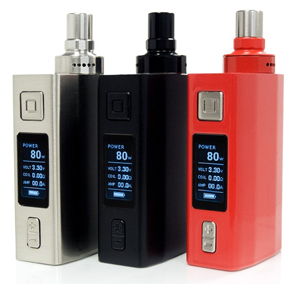 Measuring in at 49mm by 26mm by 75mm, there isn't too much difference in size.  The button layout is slightly different, where the 75 has horizontal adjustment keys for the 80 they placed them vertically.  It has the same flush square firing button and 0.96 OLED screen, the same 3.5ml "clean hands", no-leak, built-in tank, an adaptor for your favorite RDA, and uses the same killer coil systems as its 75 watt counterpart.
Temperature control and memory functions are almost identical, but this one offers an extra 5 watts of power.  While that may not sound like much, the built-in 2100mAh lithium-ion battery is the main difference between the two.  On-board charging with a single power source versus the 75 watts replaceable power supply.  The outer design is also slightly different.  As we already mentioned, the keys are set up differently, but this device just has a completely different feel to it.

Why Choose VaporFi?
As we mentioned at the top of the post, VaporFi is renowned for its customer service and its ability to keep people happy.  Not only do they have over 30,000 combinations of e-liquid flavors, but when it comes to devices bought online they have a simple promise.  If  you aren't happy with a purchase, for any reason, they will take it back within 30 days — no questions asked.  You don't find this kind of customer service every day, which is why we at Guide To Vaping are happy to recommend them.