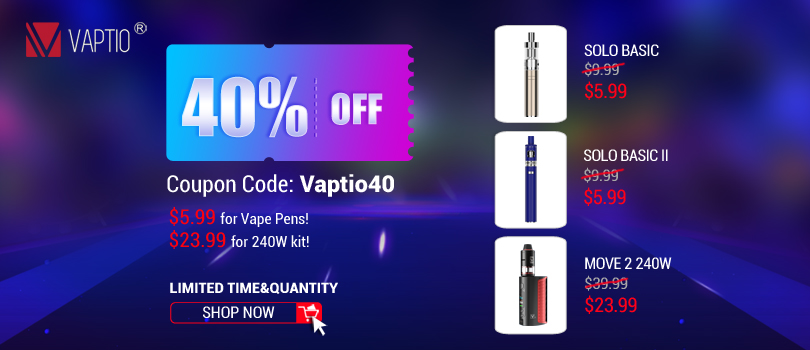 Our good friends at Vaptio is currently running a 40% off limited time deal, where you can get some of its most popular products for an incredibly low price. This includes vape pens, 240W mod kits, and the 40% off coupon can also be applied to a whole slew of its most impressive mods, vape pens, and kits!
[mks_button size="large" title="GET THE 40% OFF LIMITED TIME DEAL AT VAPTIO HERE" style="rounded" url="https://vaptio.com/" target="_blank" bg_color="#dd3333″ txt_color="#FFFFFF" icon="" icon_type="" nofollow="1″]
Vaptio has become one of the most trusted and most known manufacturing brands, delivering incredible quality and innovative designs with each release. Its products are cutting edge and present the latest technology. For instance, the Solo-Flat Mini Kit utilizes a patented ceramic atomizer, and the Capt'n Paragon Kit takes the Vaptio Heroes series to new heights with its zinc alloy frame, IML panel body, and offers striking appeal when it comes to its hero design.
There are many products to take advantage of in this limited time deal, including the P1 MINI S KIT, N1 PRO 200W LITE, Move2 240W Kit, SOLO MINI, SOLO BASIC II, SOLO BASIC, C-FLAT, P-III, N1 PRO 240W, P-II, P-III GEAR, P-1 MINI, P-1 TF KIT, C-II, MOVE 60W, MOVE 50 W, FUSION 3.8ml, and S150 Kit.
Deal Details:
Discount: 40% OFF
Coupon Code: Vaptio40
Deals: $5.99 for Vape Pens! – $23.99 for 240W Kit!
Details: Limited Time & Quantity
Coupon Can Be Used With These Products: P1 MINI S KIT/ N1 PRO 200W LITE/ Move2 240W Kit/ SOLO MINI/ SOLO BASIC II/ SOLO BASIC/ C-FLAT/ P-III/ N1 PRO 240W/ P-II/ P-III GEAR/ P-1 MINI/ P-1 TF KIT/ C-II/ MOVE 60W/ MOVE 50 W/ FUSION 3.8ml/ S150 Kit