The VOOPOO Drag 2 Refresh Edition Kit is the latest release from one of the industry's most popular brands. Manufacturers are continuously spewing out device after device with little attention. When VOOPOO launches a new device, especially in the Drag series that has become one of the most successful lines, everyone notices.
The Drag series has no doubt been one of the most innovative, yet VOOPOO felt as if a refresher was needed, hence the quite innovative and modern Drag 2 Refresh Edition. In this article, we're going to share information regarding this new device and why it's going to propel the Drag series even further. In the coming weeks, we will release a detailed guide on this product, just as we did with the original VOOPOO Drag 2.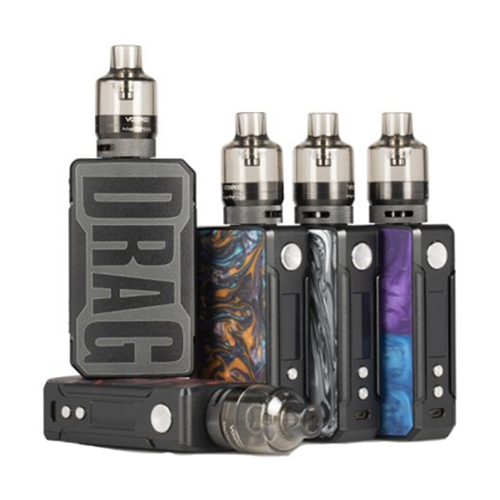 VOOPOO Drag 2 Refresh Edition Mod
An interesting fact about Drag mods is the appearance, quality, superior atomizer, and durability. The VOOPOO Drag 2 Refresh Edition device stands just 88.3mm by 51mm by 26.5mm. It's rather compact, yet still manages to allow ample space for large battery capacity. It's constructed of a superior zinc alloy material for ultimate durability and toughness.
When it comes to the appearance, you aren't let down either. You have an option of several colorways with a blazing resin inlay design, and an intuitive OLED display screen that allows you to easily view readouts and make appropriate adjustments. Those adjustments can be made on the fly with a large firing button, two adjustment buttons, and a mode-setting button as well.
The backside of the device features a magnetized battery door cover, which is capable of housing dual 18650 batteries. With the two batteries activating the internally positioned advanced GENE FIT chip, it empowers a whole slew of features, including variable wattage, temperature control, a TCR adjustments mode, battery set, flavor set, cloud set, and the ability to reach upwards of 177W.
Protecting the device is a full protection suite, which includes output over-current protection, over-discharge protection, short-circuit protection, over-temperature protection, and brand reverse protection.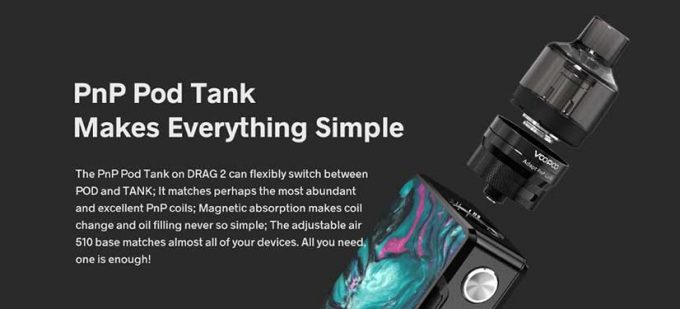 VOOPOO PnP Pod Tank
Included in the Refresh Edition Kit is the VOOPOO PnP Pod Tank. It features a modern design that fits perfectly with the new Drag 2 Refresh Edition Mod. It boasts a 26mm diameter, allowing for a 4.5mL refillable pod capacity. In an effort to offer greater convenience, the PnP Pod Tank has a bottom fill system.
The pod tank uses the VOOPOO PnP Coil Series, which consists of the 0.3-ohm PnP-VM1 Coil rated for 32-40W, and the 0.2-ohm PnP-VM5 Coil rated for 40-60W. The tank also features bottom press-fit coil installation, making it quick and simple to install coils – no threading required. To enhance the performance, a dual slotted bottom airflow control ring is present as well, allowing you to define airflow to help you find your preferred balance between flavor and vapor production.
Conclusion
The VOOPOO Drag 2 Refresh Edition Starter Kit is an outstanding new release from a brand that we've all become to know and love. VOOPOO's products work, and they work very well, so we can only assume that the Drag 2 Refresh Edition will fall in the same line. It has all of the features to be successful, though some people may be on the fence with the PnP pod tank. It's different, sure. However, what you are getting is a true vape mod, and a tank that could be seen as a pod.
These days everyone is all about better convenience. You shouldn't have to screw on coils or go through a process to fill your tank. On the flip side, you should be able to enjoy the same performance you would from any mod, such as high wattage, dual 18650 batteries, a full display screen, multiple modes, and more. The Drag 2 Refresh Edition Starter Kit offers every bit of it.