12,000 vapers have signed a petition telling Mark Zuckerberg and the Facebook marketing team that once again, when it comes to the vaping industry, their policy is wrong.
Recently reported by Guy Bentley of The Daily Caller, this petition was started 4 months ago by Kevin Price and the message it sends is simple:
Vaping is NOT a tobacco product just because it contains Nicotine!
Tell Mark Zuckerberg and Facebook to change their definition of a tobacco product to NOT include vaping products.
Vaping can help people quit smoking. We deserve to have our voices heard and this change needs to happen. 
This is not the first time that the vaping community and the Corporate Giant have come to blows.  In fact, late last year the industry rallied around an independent movie that was banned from advertising on the social network because it was "selling a tobacco product".
The focus of "A Billion Lives" is the corruption being aimed at the vaping industry from politicians and people who have made a career fighting against the tobacco industry.  Rather than looking at the industry as one that can save lives, they are scrambling to link it with existing titles so that they can continue to receive their funding, either through tax dollars or federal grants for their next studies.  The title of the movie comes from the World Health Organisations estimate that over the next century a billion people will be lost due to tobacco-related illness, so one would think that if this is a movie talking about saving people from cigarette death's, Facebook would be all over it.
The only thing that this documentary is selling is information, but in their wisdom, Facebook decided it was against their policy to allow the movie to advertise to a wider audience.  A petition was made and within a few weeks, the corporate decision had been overturned.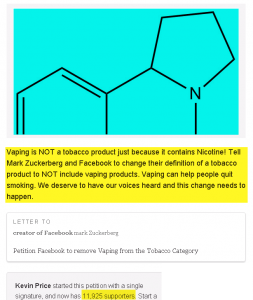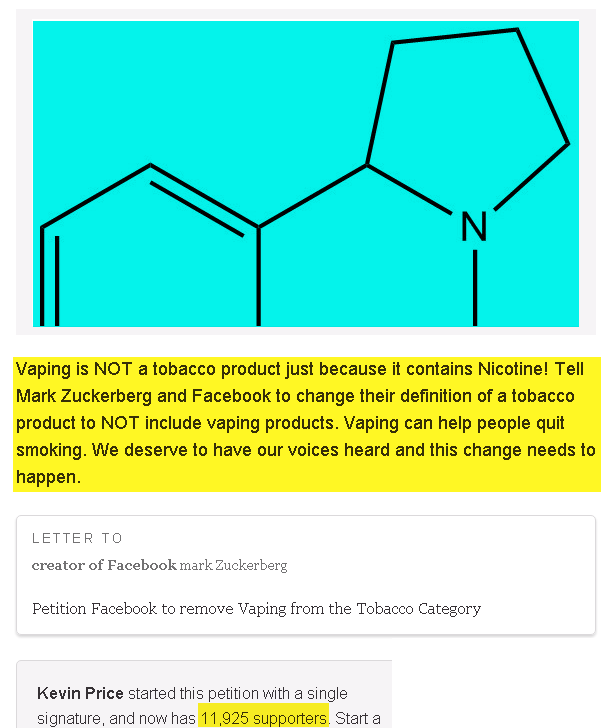 It wasn't long after this concluded that the concept of a broader argument and the petition we are talking about now, was born.  As it stands, no organisation that is related to the vaping topic is allowed to pay Facebook to advertise on their site.  This means that on average a business or organisation page on the site, not a group, will only reach on average 6% of its subscribed followers for any single post.  While Facebook's policy does not prohibit companies from posting in groups, the message can still get out, but it is often lost in a ton of kitten spam and look at my mod posts.  A company owner or event organiser does not expect customers to have to repeatedly check back to the page just to make sure they aren't missing anything.  It may not seem like much, but the effects of this ruling are so absurd that even the AVA (American Vaping Association), the very people who spend all of their time running around the country to help with the battle against government regulation has had their account blocked from using the advertisement feature.
The only thing these people are looking to do is pay Facebook to make sure that all of their followers get to see their material, the same way it works for every other industry.  We get the fact that there is a federal law that prohibits the advertisement of cigarettes on billboards, in magazines and on the web, but Facebook needs to stop trying to presume that it knows the wishes of the Federal Government before any laws are passed.
You see advertisements for patches and nicotine gum on the social media engine all the time, they contain nicotine but have been given the privilege of not being deemed a tobacco product.  The vaping industry is asking for nothing more than the same courtesy.
The comments from the supporters of the petition all seem to have one very simple and centralized message, and I believe that none said it better than Mark Siegel of VA:
Vaping is not tobacco. While it can be a nicotine product, it contains none of the harmful ingredients of tobacco products. Thus vaping has none of the harmful effects of smoking. Changing the Facebook status of vaping, at large, to its own category will help countless people, and further the public's understanding of vaping, as an alternative and as an industry. The consequences of such action are far-reaching and without parallel, as Facebook is a large source of information across many countries.
The only thing we ask of everyone who reads this article is that you take a couple of minutes out of your day to add your name to that number.  We have a message to send to Mark Zuckerberg and everyone else, vaping is NOT smoking, and it's time you stopped trying to say that it is.
ADD YOUR NAME TO THE PETITION
As always, enjoy your vaporizer and vape safe!