After almost a decade of trying to destroy the vapor industry, it seems as though the FDA's end game is in sight. Starting in 2009, this long play has been repeatedly warned against and ignored, but here we are. The FDA is about to hand the keys to the house to Big Tobacco and it seems as if they will be letting them switch over to the Pharmaceutical club to boot.
Before I go on, let me remind you that the Food & Drug Administration does not work for the American people. They are not elected officials. In fact, they are an organization of career bureaucrats and former lobbyists who have been put into positions of power by those you have elected. In a recent stunning blast against this organization, Senator Richard Burr (R-NC) stated that the FDA only works for the Government 25% of the time, and the rest of its time is spent answering the calls of its corporate masters in the Pharmaceutical industries.
Let's take a quick look at the last decade and see how we ended up here today.
2009
On April 15, 2009, electronic cigarettes and accessories made by both Smoking Everywhere and NJOY were denied import to the United States, under the premise that they were unapproved drug-device combination products that were intended to help treat the withdrawal symptoms of nicotine addiction.
Smoking Everywhere filed suit against the embargo in the United States District Court for the District of Columbia, stating that these products were not for the treatment of nicotine addiction but rather for enjoyment purposes. The court allowed NJOY to join the case as both companies were filing a preliminary injunction to prevent the FDA from blocking their shipments until the full case was heard.
2010
Fast forward a few months, the court entered a judgment in favor of Smoking Everywhere and NJOY, stating that if these devices were a drug combination, then technically cigarettes should be too. The court also stated that the intended purpose of electronic cigarettes was to encourage nicotine use. An appeal court later ruled that electronic cigarettes could only be regulated as tobacco products unless they were being advertised as smoking cessation devices, with "therapeutic purposes".
The Mess In Between
Over the last 9 years, we have seen many attempts to decimate the vapor industry. When the FDA figured out it couldn't turn vapor products into pharmaceuticals, it went full steam ahead with regulating the vapor industry in the same way it regulates cigarettes. When the FDA finally released its deeming rule, it essentially told thousands of small vapor companies that had popped up that they had 2 choices, come up with ridiculous amounts of money to pay for pre-market Tobacco Applications or get out of the game.
Here is the sad part about this whole equation: in the last decade, vaping has been proven to be 95% less harmful than smoking by the Royal College of Physicians in the UK. While the UK was trying to figure out a way to get all of their smokers to make the switch to vaping, the United States was going full blast to an industry death on August 8th, 2018.
A new President of the United States and a brand new head of the Food & Drug Administration brought promises of lower regulations and looking out for the American small business. This turned into a reprieve of sorts, as they extended the deadline for the PMTA's until 2022. While all of this is going on, every State health group and every associated health advocacy group in the country are fighting tooth and nail to ban these products, citing research papers that were debunked hours after they were published like they were the gospel truth.
Why Vapor Technology Is Such A Problem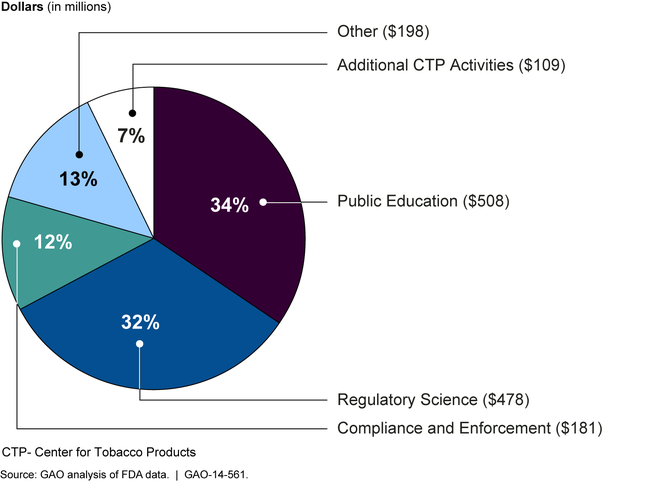 This new technology was disruptive. It was having the unfortunate effect of lowering Master Settlement Agreement payments because fewer people were buying cigarettes. How exactly are fewer people smoking a problem? What we haven't mentioned is that at around the same time the FDA was stopping shipments at the ports, they were getting a brand-new department within the agency that was solely responsible for all aspects of Tobacco regulation. For every Tobacco product sold, this agency got a piece of the pie (they originally asked for $100 million a year but Congress gave them a user fee that in 2018 resulted in around $770 million).
Call me a cynic, but having someone's paycheck based on sales sounds more like commission than regulation, and the cigarette companies that agreed to pay them have had a great monopoly ever since. We add to this the Master Settlement Agreement that paid out billions of dollars to the States in exchange for the cigarette companies being allowed to continue to kill people, we now realize that a lot of people are relying on those cigarette sales. Pharmaceutical companies are also paying user fees to the FDA to be allowed to peddle their Nicotine replacement products and smoking cessation drugs, and they are paying a fortune for the privilege.
Back to the Tobacco user fee's and MSA payments though — that money is used to fund research, health departments, and supposedly stop smoking campaigns. All of the groups that we mentioned were trying to get vapor products banned all rely on money from Tobacco companies to stay in business.
Why Can't We Vape in Peace?
Most vapers started using these products because they knew someone who had quit smoking using them, and most of the independent vapor companies are owned and operated by former smokers who used them to kick the habit. These businesses don't tell people they can help them quit, because that is against the law, plus it would open them up to needing pharmaceutical licenses. Word of mouth is generally the only advertisement they need. If you spend any time in these small shops you will know that most new customers start off by saying "my friend quit smoking with one of these and I want to do the same".
Before laws were put into place, these companies were self-regulating and refusing service to minors. The consensus was, if you aren't old enough to smoke, you aren't old enough to vape. When a flavoring additive was called into question, the industry pulled it from its products and when the Government started saying they were marketing to kids, they did exactly what the Government asked to rectify the situation. Every industry has bad players, but it now turns out that the worst is working by the side of the FDA.
How Juuling Got So Big, So Quickly
This teen epidemic we keep hearing about: the numbers keep changing by the day, so we aren't even sure what they are anymore. Rather than releasing the data from the CDC reports, the head of the FDA gave the media "talking points" to make sure that every parent in the United States was terrified about what their high schooler was getting into. A single company demonized because it was creating an epidemic among children and it was available in every gas station in the country. That company was called Juul, and it was created by a couple of silicone valley types. They also shied away from the low nicotine products that had become the industry standard, changed the formulation so they could pump each of their tiny pods full of high salt nic concentrations.
For many of the health groups, States, and the FDA, this was the golden Goose they had waited for. What better way to get rid of the industry than using the children as pawns? Before there was an epidemic, these organizations were planting seeds in the heads of impressionable kids. Juuling became a word and all of a sudden, every teen in the country had a sudden urge to start vaping. The vaping industry was accused of marketing to children, but the Campaign for Tobacco-free Kids and the Truth initiative did a better job than any marketing department could have ever dreamed.
35% of Juul is now owned by Altria, a 13.5 billion dollar buy-in by one of the very Tobacco companies that vaping was taking money away from. Altria happens to be one of the companies who hasn't had to pay out so much in the Master Settlement payment, and a company who has been happily watching half of its customers die since day one. In the news, Altria is telling everyone they are about to get out of the cigarette business because they are poised to own the ENTIRE vaping industry, with a little help from the FDA.
The Death of Vaping As We Know it
So here we are:
       Legal ages to use products are being raised around the country—fact.
       Flavor bans are being implemented to save the children—fact.
       Juul has offered to take its flavored products out of stores—fact.
       Altria has suggested the FDA remove all flavored products from the market—fact.
       Altria has suggested the only products to be allowed on the market have passed PMTA and are secured behind advanced age restrictions—fact.
       Altria has suggested using proprietary age verification systems in any location vapor product are sold—fact.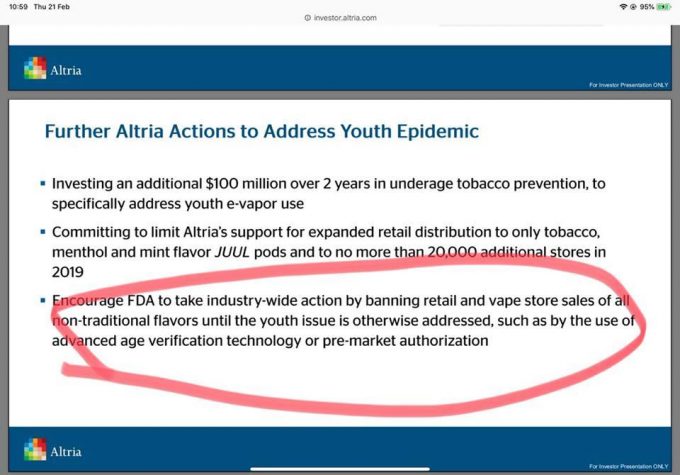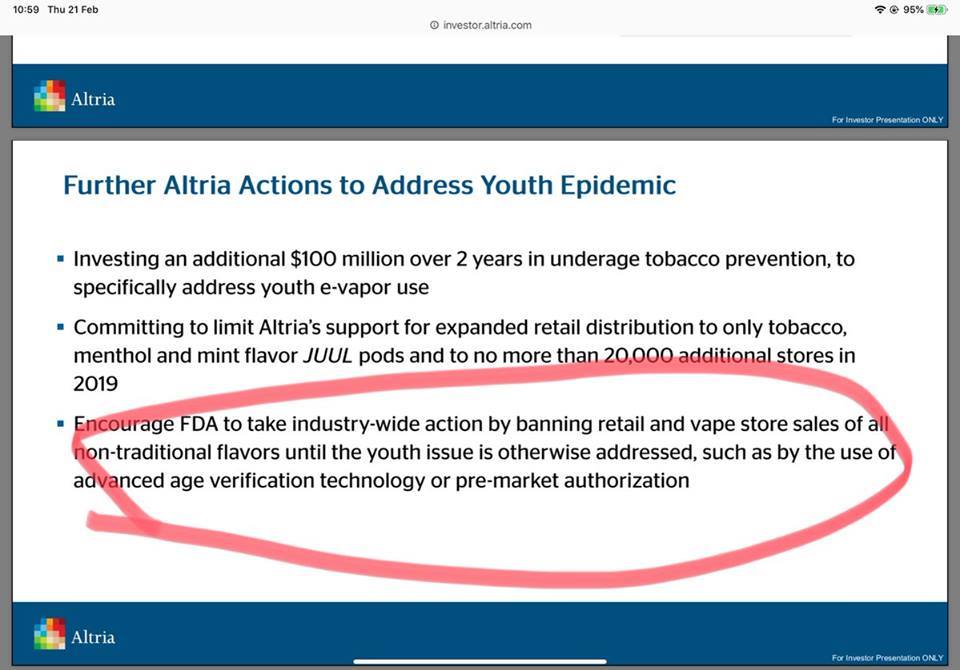 As it stands now, Juul Altria is poised to take full control of the vaping industry. A company that is probably responsible (in one shape or form) for more deaths than Stalin, has come to the forefront in removing the evils of smoking from the world and regulating the vaping industry. Call me cynical once again but rewarding the bad guys by taking away 150,000 jobs from folks who used to be addicted to their products stinks.
Legally, the FDA can not ban vapor products, however, it can tell everyone that unless they have a PMTA they will need to stop selling their products until they have one. This has been an orchestrated attack, taking over a decade to play out but they are now in a position to screw the little guy and work with people they know will pay.
Right now, I know there are thousands of you that are still saying this will never happen, and I hate to be the one to tell you but its already started. I also know there are thousands talking about the black market that is about to pop up, and to you guys I say congratulations! You may have a gallon of nicotine in your fridge but the options for 40 million smokers in this country are about to be brought down to buying from Big Tobacco… actually, since they are getting out of the cigarette game, I guess they will be classified as a Pharmaceutical company now.
It took a decade to get here, but it looks like the FDA will finally get exactly what it wants.
While all the facts in this article can be verified, please understand that this is just one course of events that could happen over the coming months. If you want to make sure it doesn't happen, get involved with your State Advocacy Groups as this is going to take an act of Congress to fix.