While my Husband (Blake) and I attended the Atlanta Vape Meet, I brought along my pink variable voltage eGo. The VV eGo has always served me well and performed as I needed. Being a female, I of course like to accessorize with my PV's of choice. Don't get me wrong, I'm no high maintenance gal, but I do love the color pink and even more so love when I match. Normally, you see females out in public making a fashion statement with their louis vuitton bags and other glamour filled items. With me, I've already started looking at electronic cigarettes as the norm and I make sure when I'm out around the town, to present it that way also. E-Cigarettes are becoming normal as the years pass and if we present them like that, then the public will see them that way as well.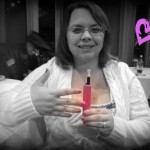 I've never been into the whole collecting of mods, nor have I ever wanted one. I've used Blake's LavaTube every once in a while, but I was still satisfied with my eGo. After socializing with many people at the ATL meet and seeing all the amazing devices that people used, I finally took Blake's advice and headed to the VapeRite table. Just as a note, I've never been to a meet, so this is my first experience being able to actually hold the products before I buy them. The VapeRite table was filled with free 3ml sample e-liquid bottles, atomizers, batteries, mods and much more. We planned to just look around until I found a mod that caught my eye and as soon as I laid my eyes on the Pink RoughStack V2, I just knew it was the perfect first mod for me.  The RoughStack was bright pink in color and small, but still housed an 18650 battery. The button positioning was different from what I've seen, but surprisingly comfortable in the hand. The top portion of the RoughStack held the button and the 510 connector. The RoughStack V2 works great and I'm very pleased with it being my first mod. It's opened my eyes into a world of electronic cigarettes that I never gave a chance before. If only I would have gotten it sooner…
The only thing I'm not to fond of on the RoughStack, is how close the button is to the 510 connector. I like how the button sits at the top of the device, but I feel like it could have been designed to where it wasn't so close to the connector. The reason why I mention this is because I have to use a standard sized 510 to 510 extension, so that my drip shield doesn't hit the button. A few weeks after I purchased the RoughStack, I was doing a battery change and then upon firing the pv, I could smell something burning, along with hearing it also. I quickly pulled out the battery and seen that it melt some of the plastic coating at the bottom of my AW IMR 18650 battery. I was puzzled to why this happened, but after doing some talking with Blake, we've come to the conclusion that it was probably the stacked 510 to 510 shorty extensions. (As a note, 510 to 510 extensions have been known to short out devices.)
After contacting VapeRite about what happened and giving feedback, I wanted to replace the spring in my RoughStack, which collapsed from the heat inside the mod. I was instructed to send the device back to VapeRite and they would replace it at no cost. The customer service was outstanding and the prompt replies from Todd (VapeRite.com owner) made everything easy to deal with and an overall great experience. In waiting for my replacement RoughStack (a total of 2 days), I went back to using my eGo and I still like the thing, but it just wasn't cutting it anymore. In that short period of time, I've grown to love the way the RoughStack performed and its comfortable feeling along with the button location. My replacement RoughStack arrived and I was back to vaping comfortably.
If you're interested in a nice, stylish and great performing mod, I highly suggest you try the RoughStack V2 from www.VapeRite.com
Advice: RoughStack V2 + The Kick = 🙂