Our foreign counterpart that's established themselves as leaders within a US based market has a clouded vision when it comes to products, the FDA, and advocacy. However, there are two vapers that are bridging the gap between US and China and it has resulted in a win for both countries.
While it may seem as if China manufacturers understand the vaping market with quite the stronghold on the industry itself, their vision is quite clouded, and they're oblivious when it comes to products it should be manufacturing, attention to a part of the market that's most fruitful, our current standings with the Food and Drug Administration, and our on-going advocacy efforts to save vaping in the United States.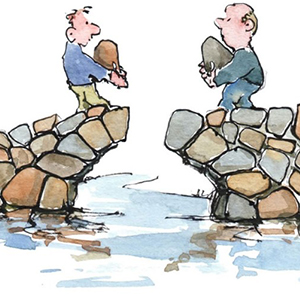 However, there are two vapers that are bridging that gap between US and China in an effort to right those wrongs, educate China's manufacturing brands, and partner with them to bring both countries together under one fight. But, who are these two vapers, what makes them worth being recognized compared to the many US citizens that too have had close relations with China's vape manufacturers? Their names are Dimitris Agrafiotis and Phil Busardo.
Often referred to as the VapinGreek, Mr. Agrafiotis and his partner Phil "Pbusardo" Busardo have taken attention to the incredible gap in the vaping industry that separates both US and China. Agrafiotis and his partner have made it a goal to unite the two countries in an effort to save vaping as we know it. You see, the issue is that the state of the industry is under fire within the United States, dealing with local bans, federal restrictions, and a media that blankets the positive aspects of a life-saving alternative to tobacco. Many may assume, even China's manufacturing brands themselves that China has no take in this all, as if it isn't their fight. Fortunately, the state of the vaping market and its industry in the United States greatly effects these manufacturers and their businesses. Agrafiotis and Busardo are only using common sense and educating these China manufacturers in an effort to help them realize that their stake in this industry is just as much under threat.
Before we continue this article though, you need to first understand how this all came to be, how these partners collided, and how the vaping industry's two saviors turned into a bromance that's kept vaping's consumers entertained and amused as they set forth on their mission to save vaping. A few years after Agrafiotis and Busardo started vaping a "bromance" between the two formed online. It began as something that a lot of people enjoyed for amusement purposes, but that played-up bromance turned into a life-long friendship both online and off.
When asked about the friendship, Agrafiotis said "the truth is our ball-busting is daily and constant. what you see online is how we are in our friendship in person."
FACT: Dimitris started vaping with a V2 Cigs e-cigarette in 2010. Phil started vaping with a Joye 510 e-cigarette in 2009.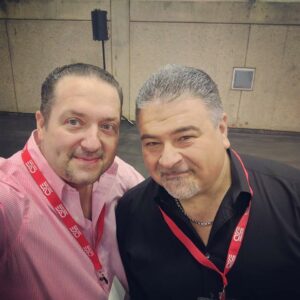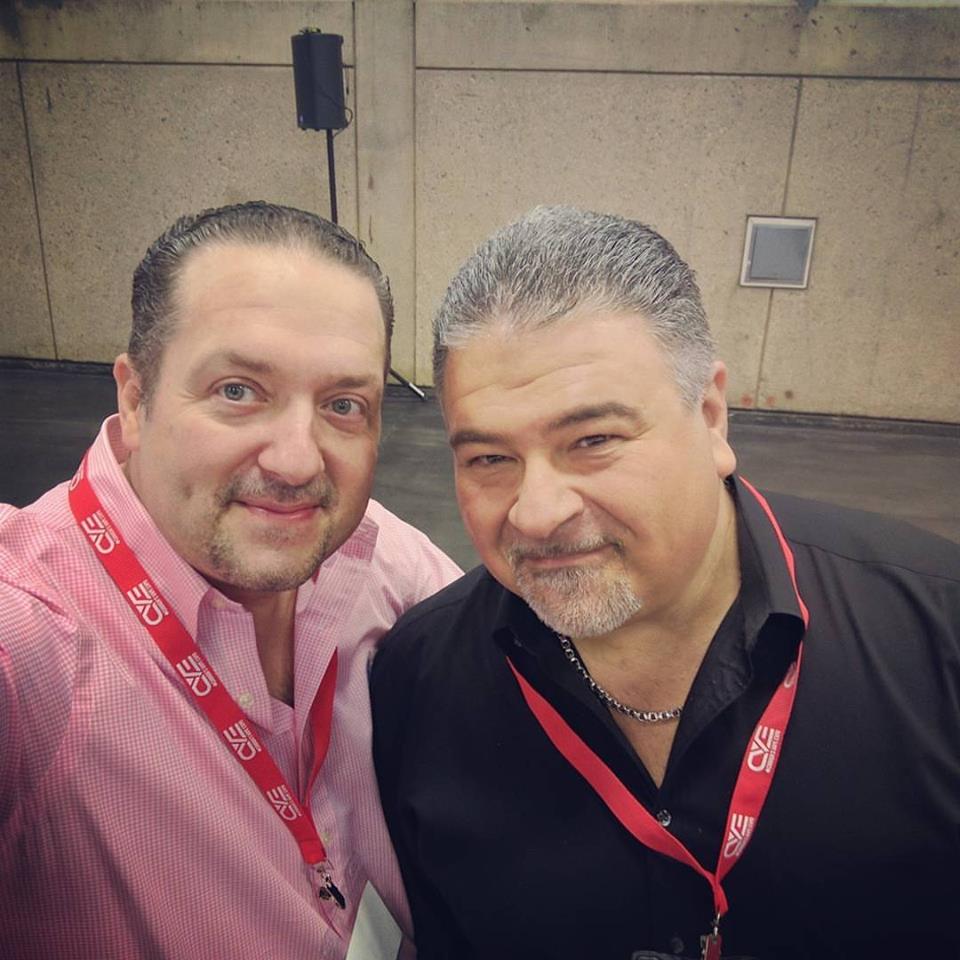 These two came together after someone sent a message to Busardo about this Greek guy that did reviews. Busardo then messaged Agrafiotis on Facebook and they began talking with one another. After establishing that immediate friendship they started noticing the similarities in the way they vape and how they looked at vaping equipment. Rather than just reviewing products and publishing them to the web, the partners also communicated with manufacturers differently than other reviewers present at the time, by receiving prototypes and making suggestions to Chinese manufacturers to help improve the final version before it went into production. After some time of doing this, they started feeding information back and forth. With this friendship, their knowledge, and ties to the vaping industry, the two began setting their eyes towards larger goals.
We met for the first time at VaperCon Virginia and quickly realized me might be brothers from a different mother. There were a lot of similarities in our daily life… for an example, we use the same deodorant. You can't make this shit up! haha
Progressing their friendship, partnership, as well as goals, the two came together by taking a trip to China and sitting in front of more than 100 manufacturers to break down the current state of the vaping industry in the US and to educate China vape manufacturers in a way that they can understand it. As a result of this meeting, SEVIA USA was formed by the leading brands within the industry, which included Aspire, Innokin, Kanger, and SMOK.
FACT: There are 16 manufacturers that are now members of SEVIA USA: Aspire, Kanger, Innokin, SMOK, Joyetech, HeavenGifts, iJoy, Sense, Horizon, Wotofo, Tesla, Ald Cigarette, Ave40, EHPro, ElegoMall, and Smoant.
FACT: The two recently made another trip to China in which they were successful in getting YiHi on board as a member of SEVIA USA.
I along with many others that are friends with Dimitris on Facebook often see him and Phil taking trips to China. Is it because he's riding the tail of these brands for money or free product? Not hardly. In fact, part of SEVIA USA's mission is to assist the members in the regulatory field and update them to the state and federal laws. With that said, these two travel to China at the SMOK headquarters (because it has the most conference space) once a year to present the current state of vape in the US and to inform them on where SEVIA USA can assist the most. During the conference between the members, issues are discussed and they make strategic plans on how to spread the money that the members have donated. With each expenditure, the board must approve it each and every time.
By now I'm sure you're quite aware that the purpose of SEVIA USA is to obviously get the Chinese manufacturers to assist in the financial battle in the United States. While other groups may have asked for money, but never explained why and what they did with that money, Dimitris and Phil took a different approach. They've established a relationship of trust with China manufacturers and were very detailed in explaining why they should be helping, along with the possibility that vaping could end as we know it in early as 2018.
From a culture perspective, they appreciate that we are willing to come all the way to China and meet with them face-to-face.
As of today, SEVIA USA has invested over $400K in 2016 and has been projected to invest the same amount for 2017, all in advocacy. The majority of their funding has been spent in the R2B Smoke-Free Lawsuit, where SEVIA USA has been named Top Donor. SEVIA USA has also assisted VTA on the federal front and various state associations that have reached out to them in the time of need.
Through the course of speaking with Mr. Agrafiotis, the conversation began to move towards speaking about the state of products and the vaping market.
We have been trying to promote safety, and of course, starter devices to help more people quit smoking. We feel as if the industry has shifted their focus towards catering to existing vapers. We believe our smokers are getting left behind, so our influence has been trying to get China manufacturers back to the basics.
Agrafiotis also shared that they're hoping manufacturers will improve their standards and possibly come up with a universal color code for coils, as well as better battery safety in an effort to remove as much user error as possible from vaping. He continued by saying that both him and Busardo are MTL (Mouth-To-Lung) vapers and would like to see open vapor choices available that are satisfying for smokers. One way that Mr. Agrafiotis has been able to make things easier for smokers is the creation of MTLVapors.com. It's an online vape store of products that they feel will work well for MTL vaping. The goal of the MTL Vapors site is to make it easy for smokers to choose a starting device, as well as making it easy for vapers to send smokers. On the site, you'll notice that there are no devices that have the temperature control feature, no 18650 loose batteries, and no devices that are capable of high wattages, such as 200 watts. They're all easy setup kits that mimic the style of smoking, but with higher nicotine liquids to satisfy a smoker.
Both the "VapinGreek" and "Pbusardo" are taking strides within the industry, here in America and abroad. While there are many vapers that are making great efforts in advocating for the vaping industry, it's these two vapers that are bridging the gap between US and China. To some these two men may not be looked at as the saving grace when it comes to all things vape, however, they are the ones that have stepped up and doing their part to keep vaping alive and well for us all.
GuideToVaping acknowledges the work these two have put in throughout the years and applauds them on their accomplishments, as well as their continued efforts.