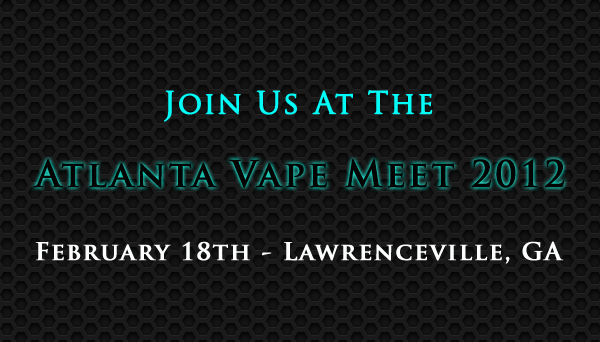 Atlanta Vaper Meet-Up 
Vape Em' If You Got Em'
Location: Olde Towne Grill, Lawrenceville
Date: February 18, 2011
Time: 5 p.m. – 11 p.m.
Hotel Accommodation Information:
Hampton Inn – 69$ a night special rate.
Also, Dimitris from the VP Live Vape Team will be in attendance shooting footage for an upcoming episode and possibly some footage for "We Are Vapers" An Exploration into the World of Harm Reduction documentary. I would like to give him an opportunity at some point to explain this project to our audience.
Other Active Discussion:
Atlanta Vape Meet, February 18th, 2012
Attending Vendors
Dark City Vapor
Epipemods
Stormy's Vapor Cellar
Vaperite
Raffle/Door Prize Contributors:
Name: Epipe Mods
Donation: Mojlinar(Thor Hammer Mod)
Name: NotCigs
Donation: VVPro
Name: Mom And Pop Vapor Shop
Donation: Unknown – but promised it would be nice.
Name: The Vapor Room
Donation: Gift Certificate
Name: VP Live VapeTeam
Donation: 2 VapeTeam Polos
Juice Sample Contributors:
Mom And Pop Vapor Shop
Vaperite
The Vapor Room
Halo Ecigs
Dark City Vapor
For the Juice Samples we are going to have a Juice bar where everyone can bring their atomizers and drip a little to try flavor. This will be a great way to explore new flavors and find new juices!!!!!
Also, we are looking to offer a swap offering for people who have vape gear they no longer want, but need a good home.
And last but not least, I know everyone has a stash of juices that just did not match their taste buds lying around. Bring those with you as we will have a container that people can contribute to and take from. Should be fun and easy way to clean out the vape juice closset!!!