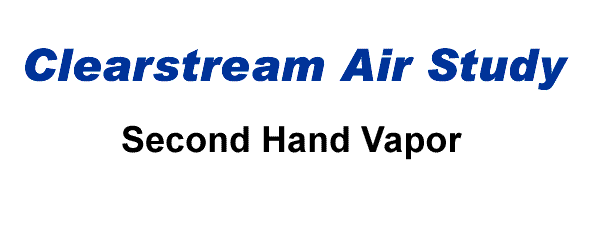 (From Utah Vapors)
In December 2011, the Utah Vapers began working closely with FlavourArt from Milan Italy to research the current studies on electronic cigarettes. What we found is a lack of evidence to support the belief we all had in that there was no harm to bystanders in exhaled vapor (second-hand vapor). After months of coordination, Clearstream Air was announced to the world electronic cigarette community on 22 March 2012 – also known as World Vaping Day.
Simply put, the Clearstream Air project is a comparative evaluation between tobacco and electronic cigarettes and hoped to draw a positive conclusion about the lack of harm with electronic cigarette usage. The study focused on the release of airborne contaminants in closed room environment to determine if there are any contaminants and if so, at what levels.
The following substances were measured for in the exhaled smoke and vapor.
Carbon monoxide CO
Nitrogen oxides NOx
Acrolein
Polycyclic Aromatic Hydrocarbons PAHs
Volatile Organic Compounds VOC
Total Organic Carbon TOC
Nicotine
Glycerine and propylene glycol (components of the electronic cigarettes fluids)
Study Results
As the study has been completed and a professional doctoral review completed, I'm proud to announce that the results are better than we could have anticipated. In short, there is NO harm found in exhaled vapor from electronic cigarettes. The most exciting results I found is that testing did not detect any nicotine in the exhaled vapor. Now, you may ask why I find this exciting. Well, my excitement is on two levels. 1) This means that the human lung absorbs most if not all of the nicotine which has long been questioned within the global electronic cigarette community; and 2) This also means no nicotine was detected in the 'second-hand vapor'. All other substances measured for electronic cigarettes were FAR below allowable levels for human inhalation according to the FDA. In fact, the levels were so low that it proves it is more hazardous to your health to breath the air in any major downtown metropolitan city during heightened times of driving.
I invite you to review the study yourself and draw your own conclusions. If you are in the medical or scientific fields, please take the invitation to review the report in detail and let me know if you draw a different conclusion. If you prefer to wait for the full doctoral paper, we anticipate the full peer reviewed release of this paper to occur near the end of July 2012.
Clearstream Air Laboratory Results
Air filter from tobacco cigarette room (19 tobacco cigarettes)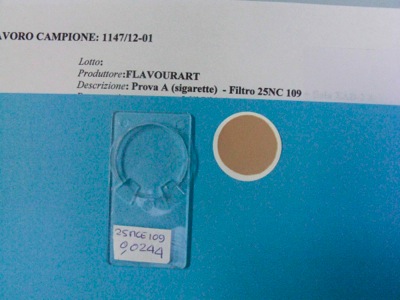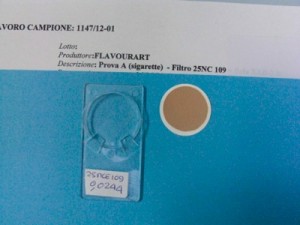 Air filter from electronic cigarette room (1.5ml eLiquid)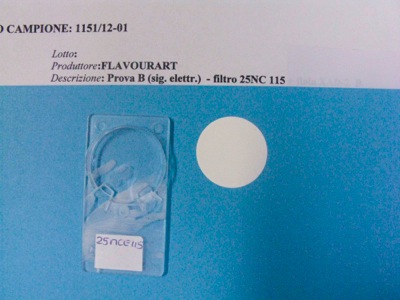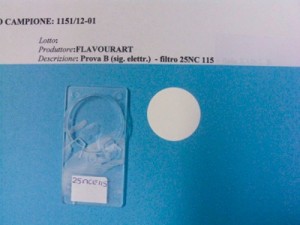 Should you wish to discuss the results of this study further or have any questions, please contact Aaron: [email protected]
In closing, I invite you to view a recent video produced by FlavourArt in Italy that highlights our 'Right to Choose' and focuses on the electronic cigarette bans around the country and around the world.

E-Cigarettes have the potential to drastically reduce the death toll from smoking. Get the message:
E-Cigarettes are the #1 weapon against smoking-related death and disease.