Some of the best perks from using electronic cigarettes are things such as using an atomizer for long periods of time and also the ease of just throwing a battery on charge once it starts getting low, but my absolute favorite is the massive selection of e-liquid that the vendors create and offer. E-Liquid or eCigarette Juice is the top most selling product in the vaping market of course and with that high demand, vendors are scrambling to come up with, mix and create the next best vape you've tasted. While we all have our different likes and dislikes, these vendors understand that and accommodate it by offering multiple categories in tastes. The usual categories for example are types like tobacco, fruit, candy and dessert. If you can think the taste, it's either been created, being created or I have no doubt in my mind that someone will eventually offer it. Very seldom though do you see a lot of talk about normal food tastes being vaped, besides the infamous "bacon" e-liquid that was created a while back. I, just like many of you ponder the question "Food tastes great, but would I really want to actually vape it?" – I don't know, but I definitely want to find out.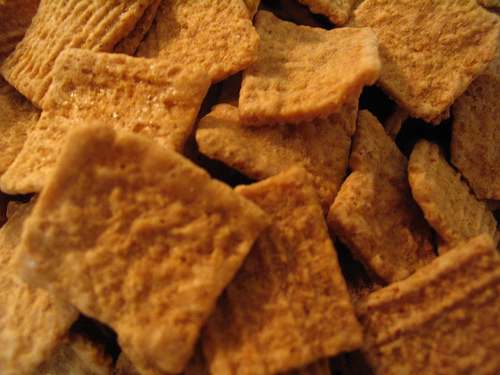 When Brett from TexasSelectVapor.com told me he would be throwing in a few samples to try with my latest order of the delicious Pearalyzing Peach, I was excited to know what was coming my way and it's weird to say, but I was nervous at the same time. I mean, I've pretty much sampled TexasSelectVapor's whole fruit/candy line, so I was sure what was coming to me was in a different category. Aside from that, you've all read my other reviews, I'm a man that likes the excitement of a candy taste and the delicious fruits in the vapor I exhale! Yes, over the time of my vaping career, you've read reviews from me vaping the almonds, the sodas and the blasting freezes, but just like many of the others, that's what they were. The vendors, they try to create this special mix to make that e-liquid taste like what the name says, some are similar, some are close and some are dead on, but in the end… if you've heard it from a reviewer, a friend or anyone else that is tastes like what it says, then that's it, don't expect anything more.
Brett from 'TSV' sent me a 3ml bottle of Golden Grahams E-Liquid and from my experience in the past of trying his line of ejuice and from watching Big Ice Dog's Review of it, I wasn't expecting anything more. I knew it would taste like Golden Grahams, however… I didn't know how spot on it would be. 1 drop, 2 drops and then I took the first toot. Yep! It's Golden Grahams and as Big Ice Dog said in his Golden Graham Review, it's for sure spot on.
Something I did notice while vaping this Golden Graham E-Liquid from TexasSelectVapor.com, is that it isn't a taste as if you just pulled the cereal right out of the box and ate it, it's more of the taste of actually having the Golden Grahams in the milk. You know how you take a while eating your cereal and after you're done the milk has that milky Golden Graham crumbs taste. Well, if you do, then that's what it is, spot on.
Now here's the question we faced earlier in this review, in the food category, is a food something you would really want to vape? For me, I love Golden Grahams in the morning and judging from the weight I'm gaining, I guess I love it at night also, but aside from that… it isn't an e-liquid that I can vape constantly. Is it an e-liquid that I'll vape again or at random times when I want the taste of Golden Grahams, of course. Let me make an example for you. You and your family go to Little Caesars (wow, I just really plugged a pizza place.) and capitalize on that $5 pizza deal. You have it every night not only because it's cheap, but because it's good also. Now even though it tastes great, you eventually get burnt out on it and that's the same way I feel about this Golden Grahams E-Liquid. Golden Grahams, vaping it has a great taste, but I couldn't see myself constantly using it.
Aside from the taste, the e-liquid produces a nice amount of vapor and a decent amount of throat hit. Nothing harsh on the throat hit at all, but it is there. Located on TexasSelectVapor.com, Brett has his juices setup with options like adding a flavor boost or "cool" to your e-liquid purchase. Though adding a "cool" feeling to Golden Grahams may not sound that intriguing, the thought of what it would taste like definitely sits in my mind.
Though Golden Grahams didn't make it to the top of my list, our tastes, likes and dislikes all differ. No matter what anyone's opinion is on an e-liquid, I encourage you to at least try it, sample it because one important thing I've learned while doing the reviews for GuideToVaping.com is that you never know, until you try it. Give Golden Grahams E-Liquid a try from TexasSelectVapor.com and tell us your thoughts!