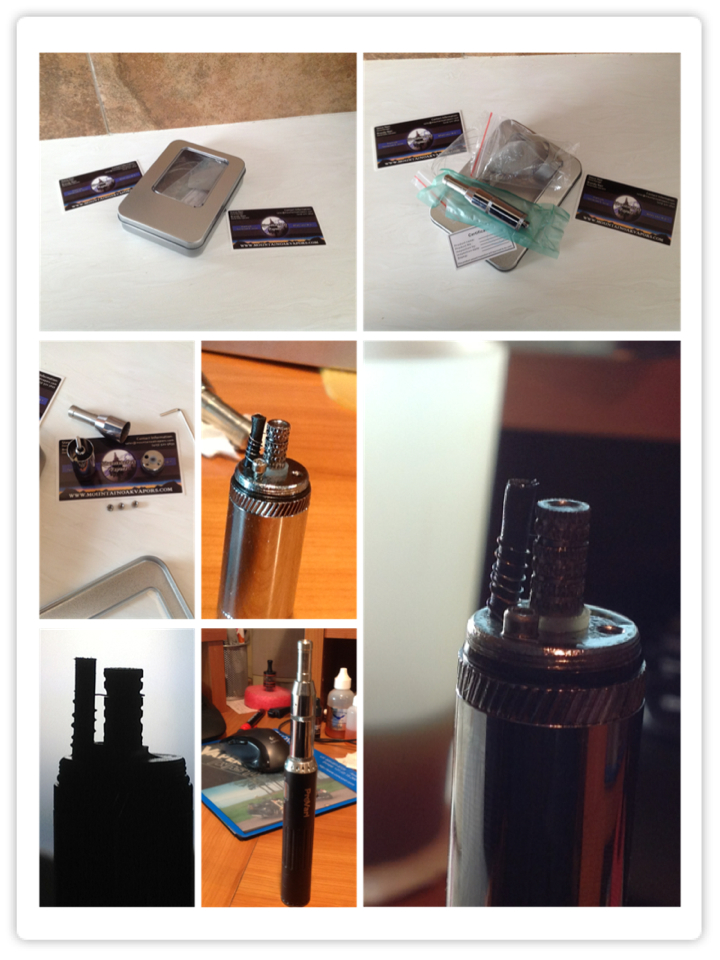 We've been talking about rebuildable atomizers, and Genesis style rebuildables for a while now. The year of the rebuildables is upon us. I'm guessing China reads GuideToVaping.com and builds off of my personal wish list at times. While I'd like to see US manufacturers ruling the market, I realize that there is a demand that isn't being fulfilled at times. Cost is a concern too.  Let's delve into the latest offering in rebuildables that is the MOV. While I'm not sure who else will carry this rebuildable atomizer tank, the one that we are reviewing is from Mountain Oaks Vapor, hence the MOV name. (This is also the first vendor that I knew of to carry this DID clone.)
The MOV is a Genesis style rebuildable atomizer tank that is "styled" after the DID system.  While I don't have the DID version, we can compare cost and availability.
What it is:
A sturdy and affordable, genesis style rebuildable atomizer tank. The MOV RAT is the genesis style rebuildable atomizer tank named after Mountain Oaks Vapor, which is where this one came from. I'm not sure which name will be used in the end, but MOV RAT or MOV GS RAT/GSRAT is what I'm going to stick with for this review.
The MOV RAT shines in a couple of areas in particular. The first is the cost. At $29 current, this product is a great way to experience the genesis style rebuildable atomizer and tank (GSRAT).  As far as I can tell, the MOV GSRAT is aesthetically identical to the DID RAT -for a portion of the price.
The second area where this atomizer shines is availability. There is no need to worry about waiting for each handful to come out, or wait for a co-op to form as with many other genesis style purchases. That's not to say that you won't ever have to wait for a re-stock here and there- but it's doubtful that you'll have a very long wait ever, as long as the popularity remains strong and it keeps getting re-stocked.
What it isn't:
This is not for those who do not like to fiddle. If you have large, fumbly hands- think twice. With that said, there is no need to remove the small negative screw all the way and lose it on the floor for 10 minutes and then spend another 5 trying to get it set again (like I did). In addition, this atomizer is definitely not suggested for beginners.
The MOV RAT, as with any genesis style atomizer that I've tried has its drawbacks and quirks. The first for me is the break-in period in a genesis style to get decent flavor is a bit longer than on most any other standard atomizer. It's a different ball game on a genesis style. It's a ball game that I haven't mastered as of yet.
MY Issues:
My first wick and coil looked pretty decent, but measured around 1.2 ohms. I decided to carry on with it and just drop the voltage down appropriately. After the Provari spewed several E1 errors, a handful of E2 errors and then a E8 error on my Provari- I went back in to re-oxidize the wick, as there was an apparent short. This seemed to help for a couple of minutes, but the errors came back. I re-oxidized and re-coiled to 1.7 ohms and what I felt was a perfect wick and coil build- and yet the errors still wouldn't go away. (see picture) I had a hunch that it was the wick either touching the side of the tank, or the sides of the hole at the top. Turns out it was most likely a hotspot in my coil. Rip Trippers provides a decent wrapping tutorial that might save someone some time.
I haven't had one error on the Provari since I made a proper coil.
Durability and build:
The MOV is solid. The threads are smooth, and I haven't been able to make it leak. As with the DID, there are some small parts to the MOV GSRAT. The cap goes on easy enough, and it's just been released that the newer versions have an adjustable cap in order to control the TH a bit better.
This Kit Includes:
1 Genesis Style Rebuildable Atomizer (without mesh and wire).
2 pieces of stainless mesh.
Approximately 3 feet NiChrome wire 32 AWG (comes with the kit, higher grade kanthal is available for individual purchase on our site)
1 mini screwdriver for working with the RAT System
1 510 metal drip tip
1 Tin Case.
Airhole size: 1mm.Capacity: 3ml e-liquid.  *(GTV has word that the airhole size has been increased to 1.5mm.)
Cost: $29.99
Where to buy: Mountain Oak Vapors