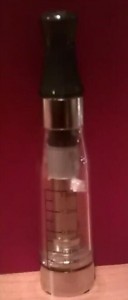 Product Description:
These are the new transparent clearomizers for eGo style devices. These hold 1.6ml of liquid and are perfect for 3.0v-4.2v devices. These will range from 2.5-2.9ohms.
Each clearomizer comes with a drip tip that is specifically made for the eGo Transparent Clearomizer.
The Vision eGo Transparent Clearomizer, which is also know as the StarDust by some other vendors. Creates a very clean taste and creates a decent amount of vapor. Unlike some other plastic clearomizers these are designed to be more user friendly without worrying about them breaking.
My thoughts
I'm using this Vision clearomizer on an Indulgence V3 at 3.7v.  The juice I'm vaping is a 70/30 blend (pg/vg).
*I did try this on Volcano's version of the ego- which uses a rubber O-ring vs. threads. It will not work on the O-ring version of the eGo if you use this type. Even after removing the O-ring, it needs the outer threads to work.
Design:
Very well built. It looks good -and zero leakage. This clearomizer is built around the CE2.
Functionality:
In a nutshell, it seems comparable to other ce2 designs in vapor production and flavor. As far as durability- this trumps any clearomizer that I've used. It doesn't feel like a disposable clearomizer. In addition, you don't need a needle and syringe to fill these- they are very easy to fill simply by unscrewing the drip tip top.
The Vision eGo Clearomizer "might" be perfect for someone who likes the amount of vapor that you get from a ce2 or wicked tank. On a scale of 1-5, with 5 being the best vape- this clearomizer gets a 2 or so. I gave it this rating because of a combination of the muted flavor/flavor quality, and it seems to take a while to warm up and give you vapor. Sometimes I felt that I was getting "ok" vapor, and at other times, much less. The flavor was anything but good, pure or true. It gave me a constant scratchy/burning feeling in my sinuses.
[stextbox id="info" caption="Update"]
UPDATE- 5/08/12
So Kitsune from the VaporTalk forum traded the two visions I had tested for one that she knew was working well. In short- it did work much better. The flavor was definitely better- and the scratchy feeling from the vape went away. The vision still doesn't produce the plumes of vapor I prefer, and it isn't a very warm vape- but I have revised the final score because the flavor issues I had previously had were not present in this round of testing. All in all, these are worth at least a try. Many vapers have been reporting a positive experience. I only ran mine at 3.7, which is low for my liking. Since this 2.0 Ohm Vision should be able to handle a bit more volts, I'll work on using at 5v a bit and report back. [/stextbox]
Go ahead and grab a second opinion from Mergryphon, and see this clearomizer in action…
Where to purchase: Altsmoke.com
Vendor Rating (1-5): 5. Altsmoke Rocks!